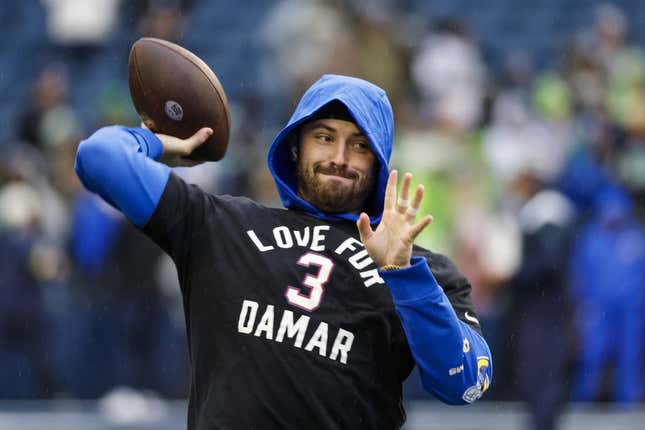 Dangerous talent assessments are often made when players are in shorts and T-shirts during NFL offseason practices, but Buccaneers head coach Todd Bowles saw some fine work from new quarterback Baker Mayfield in a polo
Is Texas or Florida State a bigger national title contender? | Agree to Disagree
"He's a good golfer," Bowles said after Tuesday's organized team activity session in Tampa. "Everything else, I kind of knew. I've known him for a couple years now so everything else is not a surprise to me."
Mayfield signed with the Buccaneers and is competing with Kyle Trask to start in 2023. Tampa Bay won the NFC South but Tom Brady retired in February
Mayfield is on his fourth NFL team. The former No. 1 pick of the Cleveland Browns was traded to the Carolina Panthers prior to last season, and joined the Los Angeles Rams upon being waived.
Not much about on-field performance will be evident this month, but Bowles said he knows Mayfield is getting his rounds of golf in right now.
"He's better than me, so that makes him a great golfer. I'm not a very good golfer, so it doesn't take much - the bar is low. But I think he's a very good golfer," Bowles said, adding Mayfield played golf with Bruce Arians and others have told the team about his strong tee-to-green game. "I have not experienced that myself - I am not a great golfer. I don't golf with those types. I golf with kind of the scrubs and we kind of just have fun and go from there."
Mayfield said he won't react to outside perspective of the move or arbitrary opinions such as a set of preseason power rankings that listed the Buccaneers No. 30
"It's May," Mayfield said Tuesday of his reaction to the rankings.
Bowles said the strongest endorsement of Mayfield will come from teammates. So far, the signs are positive.
"He's eager to learn," Bowles said. "He's got a bunch of energy every day. Guys gravitate towards him. He's learning the system just like Kyle is and they're helping each other out."
Wide receiver Chris Godwin doesn't see a leader in the clubhouse on the QB competition. He was one of several players to note a lot is different without Brady and offensive coordinator Byron Leftwich, who was fired.
"Honestly, it's just different. Any time you have a new quarterback, it's different," Godwin said. "Obviously, we don't know who that guy is going to be yet but it doesn't feel weird - it just feels like you're getting reps with a bunch of guys. I get to work on my own skill development, get to work with the receivers and then for us, we have to handle our business regardless of who's throwing the ball. We kind of discuss those things - let's make the play when the ball comes our way, let's make the play. I think Kyle and Baker have both done a great job so far - it's a friendly competition, there's no animosity."
--Field Level Media