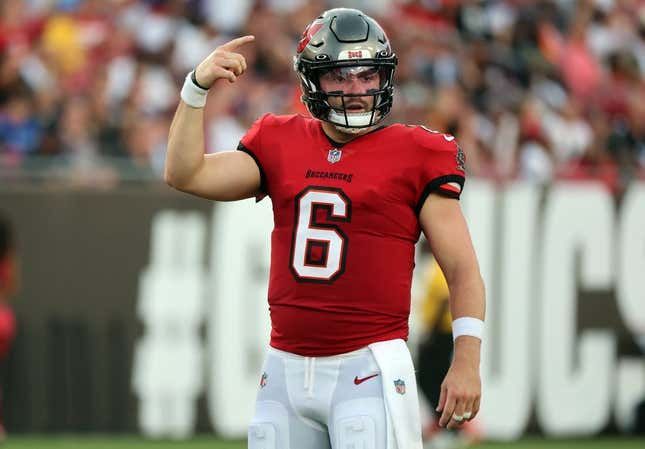 The Tampa Bay Buccaneers will begin their post-Tom Brady era when they face the Minnesota Vikings on Sunday in Minneapolis.
How running an NFL team is like running a restaurant | Chef Emeril Lagasse
Brady, who won a Super Bowl with the Buccaneers during the 2020 season and played until he was 45, finally called it a Hall of Fame career in February. It was an eventuality but still a moment that jarred the future of the franchise.
In Brady's place, veteran journeyman Baker Mayfield will try to guide the Buccaneers through a transitional season. Mayfield has started 69 games for the Cleveland Browns, Carolina Panthers and Los Angeles Rams, and he is experienced enough to know that he needs to focus on himself rather than trying to be Brady.
"(I'm going) to cherish the moment, take advantage of the opportunity," Mayfield said. "I know what's at stake here. But it's one game at a time. If I take care of business here, we're going to win a lot of football games."
Meanwhile, the Vikings hope to have sustained success from last season under second-year coach Kevin O'Connell. Minnesota went 13-4 last season despite giving up more points (427) than it scored (424).
The Vikings were eliminated in the first round of the playoffs by the New York Giants, but they return mostly intact as they look to repeat as division champions in a wide-open NFC North.
The face of the encore effort is quarterback Kirk Cousins, who is entering the final year of his contract at age 35. Cousins threw for 4,547 yards, 29 touchdowns and 14 interceptions last season, with Justin Jefferson as his top target.
Against Tampa Bay, Cousins might think about one of his peer mentors.
"I heard a quote from Tom Brady a few years ago," Cousins said. "He said, 'I'm only getting better as a quarterback (as I age). Mentally, emotionally, my leadership, everything is better.' And that hit home with me."
"I'm going, 'Wait a minute. If I can still make all the throws, I can take the hits and stay healthy, I can still move, I (could be) way better at 38 than I was at 28.'"
A few dynamic playmakers also can help Cousins' cause. Jefferson is coming off another stellar season (128 catches, 1,809 yards, eight touchdowns), and the Vikings drafted wideout Jordan Addison in the first round of this year's draft out of USC and extended the contract of tight end T.J. Hockenson.
Alexander Mattison will get his first chance as the Vikings' primary running back after the organization parted ways with Dalvin Cook. Another newcomer is defensive coordinator Brian Flores, who takes over for Ed Donatell.
Tampa Bay said goodbye to a few veterans, as well, including running back Leonard Fournette, wideout Julio Jones and defensive lineman Akiem Hicks. Rachaad White expects to take over as starting running back, and first-round pick Calijah Kancey will get a chance to shine at the next level after racking up 14 1/2 sacks for Pitt over his past two seasons.
Buccaneers coach Todd Bowles has told his young team to be ready for Week 1.
"As long as we win, I'm good," Bowles said. "(The defense needs to be ready for) the mental part, making sure they understand the game and the things that can happen to them, and not overloading them."
—Field Level Media