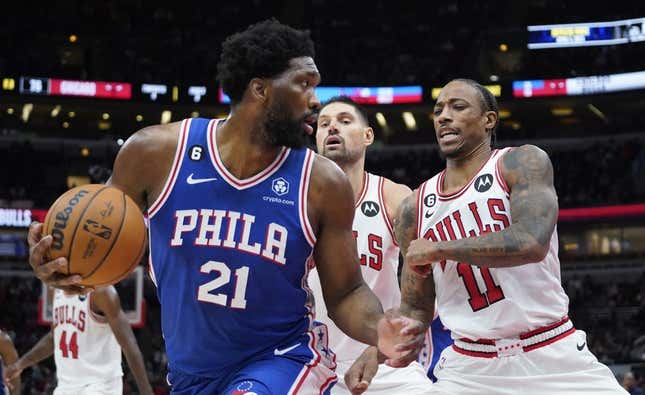 Joel Embiid and the 76ers will look to continue their torrid ways on Monday night when the Chicago Bulls visit Philadelphia to open a home-and-home series.
How running an NFL team is like running a restaurant | Chef Emeril Lagasse
Embiid collected 31 points, seven assists, seven rebounds and two blocks on Saturday to help the 76ers (48-22) secure their season-high-tying eighth straight win with a 141-121 rout of the Indiana Pacers. Those are impressive numbers for the six-time All-Star, who sat out the entire fourth quarter.
Embiid's performance was so dominant that Pacers coach Rick Carlisle told reporters that he's "probably the MVP with what their team is doing." Carlisle also added that Embiid is "a walking NBA cheat code right now. He's just that good."
It's tough to argue with Carlisle given that Embiid has at least 30 points in a franchise-record nine straight games.
Embiid wasn't alone on Saturday, however. Tyrese Maxey contributed 31 points and seven assists, Tobias Harris had 24 points and five rebounds, and De'Anthony Melton added 14 points, five boards, five assists and six steals in place of James Harden (injury recovery).
"I was really happy," Sixers coach Doc Rivers said. "Everybody contributed. Joel at times was our point guard. He probably had 15 hockey assists, and that was just terrific. Low turnovers. Against a high-scoring team on the road, you had to do that."
Philadelphia's win streak has lifted the club within striking distance of the Milwaukee Bucks for the top spot in the Eastern Conference. The 76ers are percentage points ahead of the Boston Celtics (49-23) for the second slot in the East.
Philadelphia sports a sterling 26-10 record at home; however, the Bulls were rude to their hosts on Jan. 6.
Zach LaVine sank 11 of 13 attempts from 3-point range to highlight his 41-point performance as Chicago snapped the 76ers' home winning streak at 11 games with a 126-112 decision.
Nikola Vucevic recorded a triple-double with 19 points, 18 rebounds and 10 assists as the Bulls took advantage of the absence of Embiid, who sat out with soreness in his left foot.
The Bulls (33-37) enter Monday's game having won four of their last five games; Game 2 of the home-and-home with the 76ers will be Wednesday night in Chicago.
DeMar DeRozan followed his season-high 49-point performance in Chicago's 139-131 double-overtime victory vs. the Minnesota Timberwolves on Friday with 24 points and 10 assists in a 113-99 win over the Miami Heat on Saturday.
"We haven't had a lot of moments like that this year, quite honestly. You've got to lean into it," Bulls coach Billy Donovan said of his team's recent winning ways. ... "This was a hard back-to-back, quick turnaround. Hopefully we can learn and grow from this and get better as a group."
LaVine collected 18 points and seven assists, Coby White had 18 and six, respectively, and Patrick Beverley added 17 points to pace a balanced attack for Chicago.
"We came in understanding that was a must-need win," Beverley said. "We didn't want to come out in mud; we wanted to throw the first punch, and we did. They responded like any good team would, and our first punch was real heavy. That led to a win."
--Field Level Media