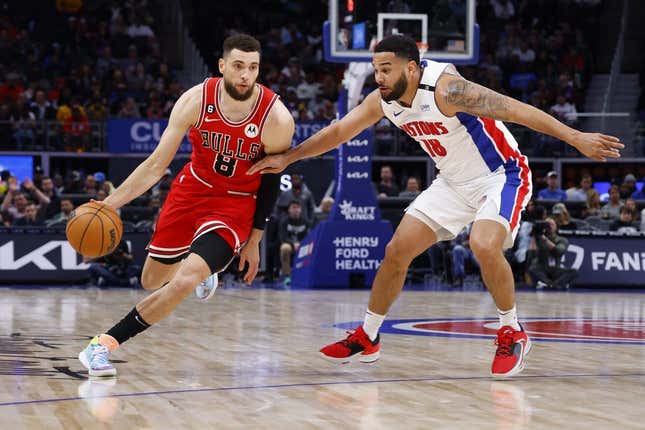 The Chicago Bulls will have their minds on the upcoming NBA play-in tournament, while the visiting Detroit Pistons will find themselves eyeing the future when the Midwest Division rivals close out the regular season Sunday
Bass' ERA stinks, but not compared to who he is off the mound | Worst of the Week Countdown
The Bulls (39-42) have landed in the 10th and final spot in the four-team Eastern Conference play-in tournament even after a 115-112 win at Dallas on Friday. The ninth-place Toronto Raptors have a one-game lead on the Bulls and own a 2-1 head-to-head tiebreaker over Chicago
The Bulls should be well rested for the play-in tournament game Wednesday at Toronto after not playing DeMar DeRozan, Zach LaVine and Patrick Beverley on Friday at Dallas. Coby White (24 points, 11 assists), Patrick Williams (23 points, eight rebounds) and Nikola Vucevic (20 points, 10 rebounds) led the way against the Mavericks
While Sunday's game itself means little to the Bulls, at least they get the opportunity to once again rest any players of their choosing
"Obviously, at this point in time, you would want to be in a situation where you know you are one of those top six seeds, where you are not trying to get into the playoffs," Bulls head coach Billy Donovan said. "It is what it is, and we'll have to deal with it.
The good news: With the exception of Lonzo Ball, long since lost to surgery on his left knee, the Bulls are healthy
DeRozan played 20 of the team's last 21 games before the Dallas contest, averaging 22.8 points on 49.8-percent shooting.
LaVine had played 70 straight before sitting out Friday. He's put up 30 or more points in eight of his last 18 outings.
As the worst team in the NBA, Detroit (17-64) will share the favorite's role in the upcoming draft lottery with the San Antonio Spurs and Houston Rockets. Each will have a 14.0-percent chance to land the No. 1 pick, and presumably the right to select French superstar Victor Wembanyama.
The Pistons have dropped to the bottom of the standings by losing 21 of their last 24 games, a stretch in which they had a pair of 11-game losing streaks. They snapped the most recent one with a 122-115 road win over the Indiana Pacers on Friday night when Jaden Ivey had 29 points and Killian Hayes added 28
Detroit big man James Wiseman took an elbow to the face early in the game and wound up playing just eight minutes. He was able to return to action in the third quarter after sitting out the final 22 minutes of the first half and is likely to face the Bulls
Wiseman has made it clear: He wants to make the most of this season, then take the next step over the summer.
"I just got to take it one day at a time," Wiseman said. "I can't be so hard on myself about anything, about trying to be good right now, all the instant-gratification stuff. I got to just look at it for what it is and be real with myself. It's going to take time. I just got to keep working. That's it."
Wiseman has averaged 12.8 points and 7.9 rebounds in 23 games since being acquired from the Golden State Warriors in February. The Pistons are just 2-21 in games in which Wiseman has played
--Field Level Media