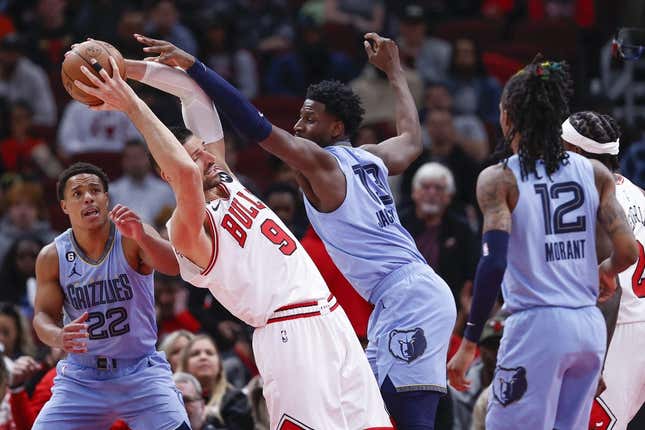 Zach LaVine scored a game-high 36 points and had nine assists, DeMar DeRozan added 31 points and seven assists and the Chicago Bulls engineered a big second-half comeback to knock off the visiting Memphis Grizzlies 128-107 on Sunday
Air Jordans are more American than McDonald's French fries | Deon Cole's Ultimate Sports Fantasy
Chicago (38-40) rallied from down 23 points in the first half with a dominant third quarter on both ends of the court. The Bulls held the Grizzlies to just 16 points in the period on 5-of-18 shooting, while knocking down 17-of-27 for 40 points on the other end
Runs of 19-6 and 19-2 flipped a 17-point Memphis advantage in the opening minute of the third to a nine-point Chicago lead by the end of the period.
Memphis (49-29) cut the deficit to three midway through the final period on Jaren Jackson Jr.'s 3-pointer, part of his team-high 31 points, but Chicago responded with an immediate 11 unanswered points. LaVine was responsible for seven in a row during the surge.
The Bulls' 11-0 spurt was part of a larger, 24-6 run to close out the game
Nikola Vucevic recorded his 48th double-double of the season with 13 points and 10 rebounds. Reserves Coby White and Patrick Williams added 19 and 12 points, part of Chicago's 41-18 edge in bench points.
The Bulls also leveraged a staggering 18 Grizzlies turnovers into 31 points. Chicago committed just three total turnovers
The second half was a mirror opposite of a first half that Memphis dominated with runs of 17-4 from the late first into the second quarter, and a 16-2 burst midway through the second.
Four Grizzlies scored at least 11 points by intermission, but the same quartet finished as Memphis' only double-figure scorers for the game. Desmond Bane scored 21 points, Ja Morant notched 17 -- part of a triple-double along with his 10 rebounds and 10 assists -- and Dillon Brooks scored 14 points
The loss marked just the Grizzlies' second in its last 10 games
--Field Level Media