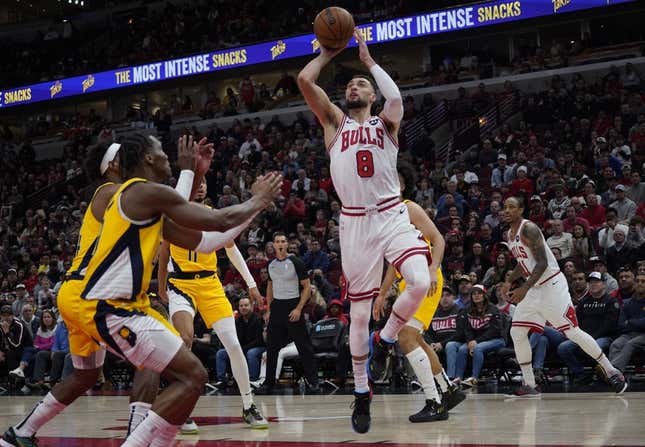 The Chicago Bulls have lost two straight and nine of their last 12 games but are still in the hunt for the play-in tournament in the Eastern Conference.
How running an NFL team is like running a restaurant | Chef Emeril Lagasse
They get a chance to improve their position when they travel to Denver to face the surging Nuggets, who own the best home record (30-4) in the NBA.
Chicago is coming off a 125-122 loss at home to Indiana, which put a dent in its postseason drive. The Bulls couldn't beat the Pacers despite 42 points from Zach LaVine, who has been on a tear of late.
LaVine had 27 in a loss to Phoenix on Friday and 41 in a win over Detroit on March 1.
LaVine is second on the team in scoring at 24.7 points a game and is finally feeling 100 percent after having surgery on his ailing left knee at the end of last season. He has started to play like Chicago expects.
"I told you once I got healthy I'd get back to playing the way I was supposed to," LaVine said. "It takes time to get back to full strength. I feel like I'm playing well."
But the Bulls as a whole have been struggling to stay consistent. They are seven games below .500 but still have a chance to play beyond the regular season, which is why the loss to Indiana on Sunday stung.
Still, they have 17 games left and aren't giving up until they're eliminated.
"As long as you've got time you've got a chance," DeMar DeRozan said after the loss to the Pacers.
Barring a major collapse, Denver is headed to the postseason for the fifth straight season and is vying for the top seed in the Western Conference for the first time since the team joined the NBA.
The Nuggets are comfortably in first with 17 games left and are home for seven, where they have won eight in a row.
They escaped against Toronto on Monday night, a week after needing overtime to beat the Los Angeles Clippers at Ball Arena.
Nikola Jokic finished an assist shy of his 26th triple-double of the season against the Raptors, but it was his defense in the final minutes that helped secure the 118-113 win. He had a steal of Fred VanVleet to spark a 13-2 run to finish the game, and he had a strip of Scottie Barnes that was initially ruled a foul but overturned with a successful challenge.
Jokic has been known for his all-around offensive game -- he is averaging a triple-double -- but his team thinks his defense is underrated.
"He's a smart defender," Jamal Murray said. "He knows tendencies. He has great hands, and he forces (opponents) to make a contested shot. He's going to get beat sometimes, obviously, like everybody does in this league, but for the most part, he plays the angles well and knows how to play cat-and-mouse in the paint. I think he's underrated, with his hands, the deflections, tips and rebounds. ... I don't think he gets enough credit for that."
--Field Level Media