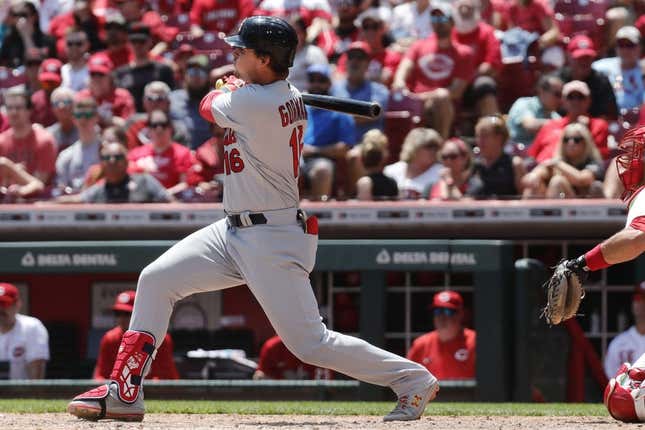 The St. Louis Cardinals, who are thriving amid a hectic portion of their schedule, bring their hot streak to Cleveland for a three-game series against the Guardians beginning Friday night
Are the Oakland A's a failed state? | Agree to Disagree
Cardinals right-hander Adam Wainwright could be forgiven for thinking a day off was due ahead of the trip to Cleveland
Wainwright was dressed in his smart traveling attire Thursday morning and ready to check out of his Cincinnati hotel when a Cardinals broadcaster reminded the 18-year veteran that St. Louis still had another game to play against the Reds that day
The Cardinals then played for the 14th time in an ongoing stretch of 19 games, beating the Reds 2-1 to improve to 10-4 in that period
St. Louis' last day off was May 11. The team then had a three-game series in Boston, hosted the Milwaukee Brewers for three games and the Los Angeles Dodgers for four before arriving in Cincinnati for four.
The Cardinals don't get a break until May 31, when they get a rare two-day hiatus after finishing their test of endurance with the three games against the Guardians and then two home games against the Kansas City Royals
The scheduling quirks prompted St. Louis manager Oliver Marmol to rest three of his top batters -- Nolan Arenado, Paul Goldschmidt and Willson Contreras -- on Thursday as the Cardinals rode Miles Mikolas' seven shutout innings to a tight victory over the Reds
"It's tough and you start to wear some guys out," Marmol said of the busy slate, according to the St. Louis Post-Dispatch. "But it's putting our A-lineup out there every day. Guys are worn down. It's a lot of games. We still have several to go, so we've got to dig deep and find a way."
Now the Cardinals face a Guardians team that will be rested after a day off Thursday
The grind certainly hasn't affected the hitting of St. Louis infielder/designated hitter Nolan Gorman. His eighth-inning double drove in the first run of the Thursday game, and he on a passed ball later in the frame.
Gorman has registered 19 of his 40 RBIs in the eighth inning or later, and he is riding a 15-game hitting streak in which he is 20-for-53 (.377).
"Nolan is just taking good passes at balls and not taking any at-bats off," Marmol said.
Meanwhile, the Guardians continue to struggle on offense. Cleveland has scored four or fewer runs in 19 games of 21 games this month, and the Guardians rank last in the majors with 169 runs
"I think we're all getting tested, all the way through the dugout and clubhouse," Cleveland manager Terry Francona said. "I may have to change a few things, move some guys around the lineup."
On Friday, St. Louis will send rookie left-hander Matthew Liberatore (1-0, 3.00 ERA) against Cleveland ace right-hander Shane Bieber (3-3, 3.08) in the series opener.
Liberatore has never faced the Guardians. Bieber, the 2020 American League Cy Young Award winner, is 2-0 with a 1.50 ERA in two career appearances against the Cardinals, having struck out 10 and walked three in 12 innings
--Field Level Media