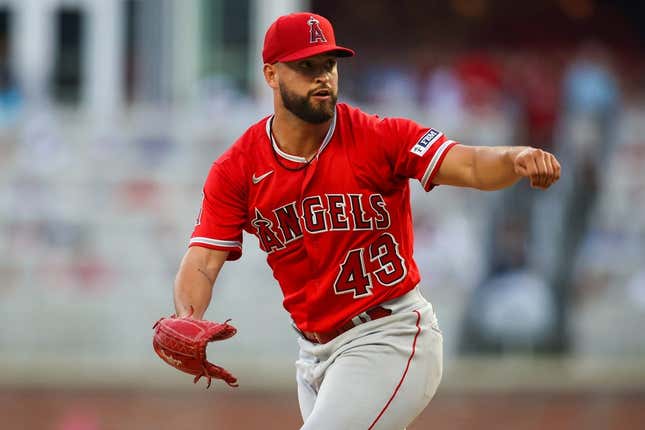 Less than a week after baseball's trade deadline, the Los Angeles Angels might already have a serious case of buyer's remorse
Is Texas or Florida State a bigger national title contender? | Agree to Disagree
The Angels dealt away some of their top prospects in an effort to make the playoffs for the first time since 2014 and perhaps persuade free-agent-to-be Shohei Ohtani to re-sign
Instead, the Angels are 0-6 in August to fall below .500 (56-57) entering Monday's opener of a three-game interleague series with the San Francisco Giants in Anaheim, Calif
Los Angeles has drop seven games back in the race for the American League's third and final wild-card berth. Three other teams are also above the Angels in the hunt for that postseason spot
"We show up tomorrow and work and play hard," Angels manager Phil Nevin said after Sunday's 3-2 loss in 10 innings to visiting Seattle. "I know everybody is now done with us, counted us out. That's fine. We've got 26 guys in there plus staff that know we have it. They know we're still here. We know what's in front of us.
According to FanGraphs, a baseball statistics and analysis website, on July 31 the Angels had a 19.5 percent chance of making the playoffs. Now it's 2.3 percent
"It's tough," Angels pitcher Reid Detmers said. "We get a bunch of new guys, super excited about getting them. We're in a good spot. We just haven't really played to our potential so far. ... That's baseball. We'll get out of it.
After closer Carlos Estevez allowed a grand slam to Seattle rookie Cade Marlowe in the ninth inning of a 5-3 loss Thursday to blow his first save opportunity in 24 chances, the Angels never took a lead in the final three games of the series
"There's no time to sit here after a game and think about positives," Nevin said. "Positives is winning games, and we're not right now.
Despite two consecutive defeats, the Giants are tied with Philadelphia for the National League's top wild-card spot, three games clear of the Chicago Cubs and Cincinnati. According to FanGraphs, the Giants have a 75.1 percent chance to reach the postseason
The Giants lost both of their games to Oakland in the Bay Bridge Series this weekend, including an 8-6 defeat Sunday
The lowly A's scored five runs off San Francisco's Alex Cobb, a first-time All-Star this season who allowed seven hits and a walk in 5 1/3 innings
"To get where you want to be, you have to beat the teams you're supposed to beat," Cobb said. "Letting two games go like that, hopefully it's not going to cost us at the end of the year, but definitely has the potential to.
San Francisco right-hander Logan Webb (9-9, 3.45 ERA) is scheduled to start Monday against Angels lefty Patrick Sandoval (6-8, 3.93)
Webb is coming off a strong outing when he beat Arizona last Wednesday, his first win since July 9. Webb gave up two runs on four hits in seven innings, with one walk and five strikeouts. Webb will be facing the Angels for the first time
Sandoval takes the mound coming off his only loss since June, a 5-1 decision last Tuesday at Atlanta in which he allowed two runs on three hits in five innings, though he walked four. Sandoval is 0-1 with an 11.25 ERA in one previous start against San Francisco. In 2020, he gave up five runs on six hits with two walks in four innings
--Field Level Medi