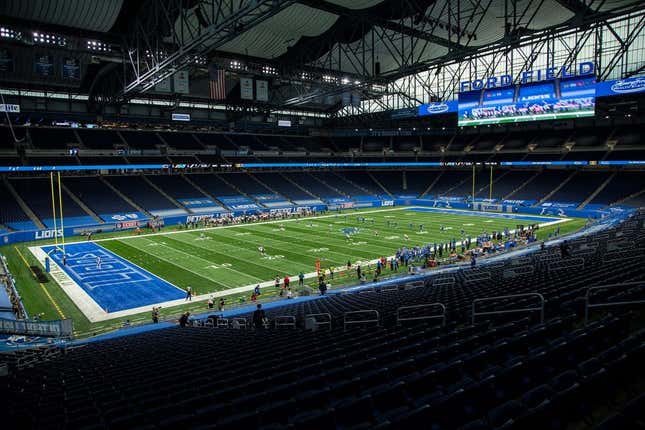 Fans in Detroit are buying into the 2023 Lions -- and gobbling up season tickets
The team announced Thursday that all season tickets have been sold, the first time the Lions have reached that mark since the 65,000-seat Ford Field opened in downtown Detroit in 2002
How running an NFL team is like running a restaurant | Chef Emeril Lagasse
"This is an exciting moment for our franchise. To reach this milestone as we celebrate our 90th season of Detroit Lions football makes the moment even more special," said Rod Wood, the team's president and CEO, in a statement. "The Lions have always enjoyed a loyal and multi-generational fan base that has been the bedrock of our fanbase. We can't wait for the home field advantage that this will create inside Ford Field this season.
The Lions even will take names for a 2024 waiting list
This is a long-awaited turn of support for the Lions, who saw fans wearing paper bags on their heads as the team went winless in 2008 and struggled in subsequent seasons. They Lions have made the playoffs just three times since 2008, losing in the wild-card round in 2011, 2014 and 2016
Coach Dan Campbell's team finished 9-8 in 2022 but are considered the early favorites to win the NFC North in 2023. The Lions will get an immediate test in Week 1, when they travel to Kansas City on Sept. 7 to meet the Super Bowl champion Chiefs in the season opener
When training camp opened, Campbell acknowledged the frenzy around his team
"I think as always, the thing that's gonna worry you is the hype train," Campbell said at camp in Allen Park, Mich., per ESPN. "I mean, as with most coaches, this thing is just taking off and it's out of control right now and that's fine, as long as we stay focused on the job at hand and the work. I just keep going back to that. We've got to put the work in and earn it.
--Field Level Medi