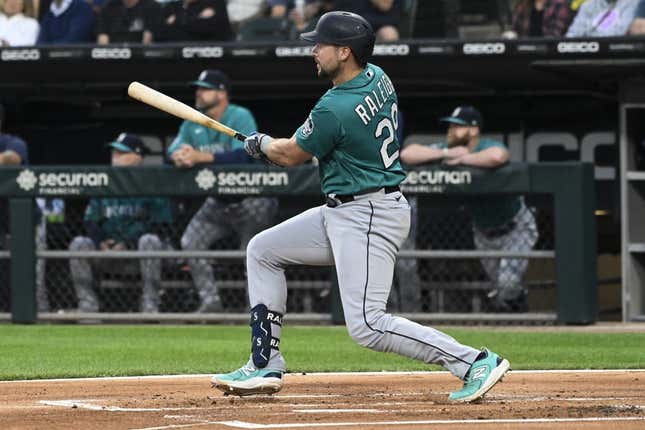 Cal Raleigh went 3-for-5 with two home runs and six RBIs and Luis Castillo pitched seven strong innings as the Seattle Mariners routed the host Chicago White Sox 14-2 on Monday night for their seventh straight victory.
How running an NFL team is like running a restaurant | Chef Emeril Lagasse
Seattle extended its lead over the Toronto Blue Jays to one game for the third American League wild-card spot. The Mariners, who have won 20 of their last 25 on the road, are also within 2 1/2 games of first place in the AL West.
A five-run first inning propelled Seattle to its season high in runs. The Mariners loaded the bases three batters into the game and scored when Chicago starter Touki Touissaint uncorked a wild pitch with Raleigh at the plate.
Raleigh then lined a two-run double to right field later and scored on the first of two White Sox errors.
Teoscar Hernandez went 2-for-5 with a home run and three RBIs for the Mariners, while Dominic Canzone also homered. Josh Rojas added three hits, and Eugenio Suarez and Ty France had two apiece.
Eloy Jimenez, who was reinstated from the paternity list before the game, delivered an RBI double in the bottom of the first for Chicago's first run.
Castillo (10-7) regrouped after that to win for the fourth time in his past five starts. The right-hander surrendered just one run on five hits, with no walks and nine strikeouts.
Raleigh and Hernandez connected for back-to-back home runs against Touissant to open the fifth inning. That chased Touissant (1-6) after he gave up seven runs on seven hits and four walks in four-plus innings. He struck out three.
Elvis Andrus and Andrew Benintendi each had two hits for the White Sox, who scored a run with two outs in the ninth on a Seattle throwing error.
Mariners outfielder Julio Rodriguez had the day off. The club activated shortstop J.P. Crawford (concussion) from the seven-day injured list before the game. He went 0-for-4 but walked twice and scored two runs.
White Sox shortstop Tim Anderson served the fourth of his five-game suspension for his role in an Aug. 5 fight with Jose Ramirez of the Cleveland Guardians.
—Field Level Media