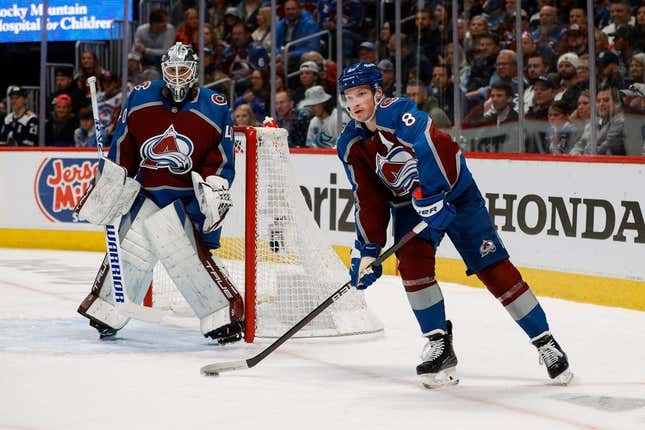 Cale Makar is considered one of the best defensemen in hockey and is beloved by Colorado Avalanche fans, but not so much by Seattle Kraken fans
Air Jordans are more American than McDonald's French fries | Deon Cole's Ultimate Sports Fantasy
Or the NHL.
Makar was slapped with a one-game suspension by the league on Tuesday for his hit on Kraken forward Jared McCann in Seattle's 3-2 overtime win Monday night, further shortening Colorado's depth heading into a decisive Game 5
The Avalanche and Kraken are tied 2-2 in the first-round Western Conference playoff series with Game 5 on Wednesday night in Denver
Losing McCann, who has been ruled out for Game 5 and possibly longer, is a blow to the Kraken. He was the team's leading scorer in the regular season with 70 points, had a club-high 40 goals and has one assist in this series
The unspecified injury occurred in the first period when Makar hit McCann into the boards deep in the Colorado zone. McCann had gone on a short-handed breakaway and put a shot on goal that Alexandar Georgiev saved.
The puck went into the netting as Makar checked McCann, who had slowed up, into the boards, and McCann fell onto his back and later rolled onto his stomach. He was ruled out for the remainder of the game shortly thereafter.
"I didn't feel like I tried to finish him that hard," Makar said after Monday's game. "I feel like if I was in that scenario they would have done the exact same thing. I'm not trying to hurt anybody. It's just unfortunate."
Makar was initially given a major penalty, but it was changed to a minor. He has no history of borderline hits so the suspension may be a surprise to Avalanche coach Jared Bednar, who said after the game he didn't think his top defenseman would be suspended
The loss of Makar for a game comes after second-line forward Valeri Nichushkin left the team under mysterious circumstances before Game 3 on Saturday night. Neither the league nor the Avalanche have said why Nichushkin was escorted to the airport by team security, only saying he is out indefinitely and it's not due to injury or team disciplinary reasons
Whether either absence makes a difference for Game 5 is unknown. Colorado has dealt with players coming in and out of the lineup all season yet still earned the Central Division title and the Western Conference No. 2 seed.
Seattle is not ready to shed its underdog persona despite Monday's win and the overall success it has had against the Avalanche this season. The Kraken were 2-0-1 in the regular season against Colorado and have already won a road game in the series
They also have the momentum after Jordan Eberle's overtime goal in Game 4.
"We've been kind of the underdog from Day 1 and we're just trying to fight back in this series," Eberle said after the win. "We still have a lot of work ahead of us."
And the Kraken will have to do it without McCann
"Our 40-goal scorer ... is not going to be available going forward here," Seattle coach Dave Hakstol said.
--Field Level Media