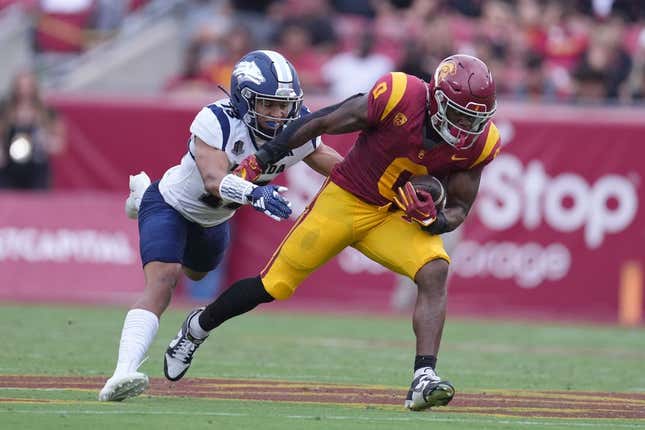 Caleb Williams spread touchdowns among four receivers in the first half and finished with 319 yards and five scores overall as No. 6-ranked USC cruised to a 66-14 rout of Nevada on Saturday in Los Angeles.
How running an NFL team is like running a restaurant | Chef Emeril Lagasse
USC (2-0) needed just 2:15 to score its first touchdown when Williams found Zachariah Branch for a 22-yard score on the opening drive.
Nevada, playing its season opener, gave a quick response, however, tying it up at 7-7 less than two minutes later when Brendon Lewis' 73-yard pass to Spencer Curtis set up a 3-yard touchdown run by Sean Dollars.
From that point forward, it was all Trojans. On their next drive, MarShawn Lloyd carried 24 yards for their sole rushing touchdown of the first half. Williams connected with Tahj Washington on a 22-yard score the next Trojans possession, then with Michael Jackson III for a 15-yard touchdown.
The three drives lasted 2:12, 2:10 and 1:11.
The longest USC scoring drive of the first half was its last, lasting all of 2:17 and capped by Williams' 13-yard touchdown pass to Brenden Rice.
Before that Trojans score, Nevada had its most promising possession since the touchdown drive, which went 10 plays and consumed 5:29. However, the Wolf Pack came up empty when Brandon Talton missed a 54-yard field-goal attempt.
Three of the Wolf Pack's four possessions before halftime ended in USC territory, as Talton missed another attempt of 54 yards just before intermission, and a nine-play drive stalled on a failed fourth-and-nine conversion attempt at the Trojans 39-yard line.
Nevada did not score again until AJ Bianco hooked up with Jamaal Bell for a 77-yard touchdown in the fourth quarter. By that point, USC held a 52-14 lead.
Williams threw his fifth and final touchdown on the first USC possession after intermission, hooking up with Washington for a 45-yard score.
Washington caught three passes for a team-high 75 yards. Duce Robinson accounted for all 71 of his receiving yards on a single touchdown catch from Miller Moss, who went 7-of-10 for 134 yards in playing much of the second half.
Lloyd carried seven times for 76 yards, and Quinten Joyner had 65 yards on four carries, including a 47-yard scoring scamper in the fourth quarter.
The USC defense reached the end zone in the second half on a Stanley Ta'ufo'ou fumble recovery.
—Field Level Media