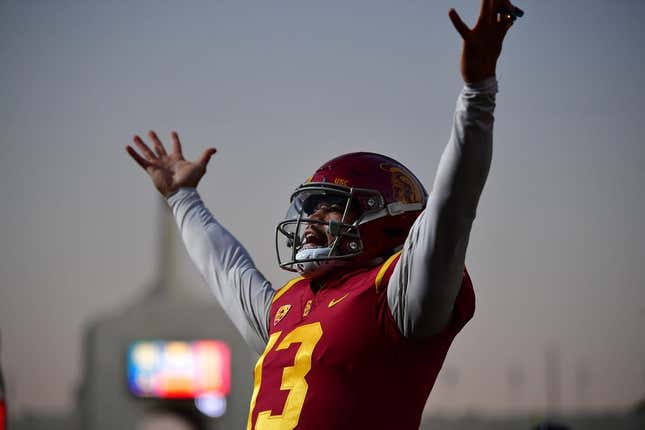 Heisman Trophy in hand, USC quarterback Caleb Williams feels like he has unfinished business as the 2023 season kicks off.
Is Texas or Florida State a bigger national title contender? | Agree to Disagree
Determined to add a national championship to his resume, Williams begins that quest Saturday when the sixth-ranked Trojans take on San Jose State in Los Angeles.
Williams more than measured up to expectations in his first season with the Trojans.
Aside from setting USC single-season records for total offense (4,919 combined yards) and touchdowns (52), Williams was named Pac-12 Offensive Player of the Year, AP Player of the Year and was the seventh Trojan to win the Heisman.
Now among favorites to be the No. 1 pick in the 2024 NFL Draft, Williams insists his focus is anywhere but individual accolades.
"We've got a lot to go get this year," Williams said. "Everyone has the same goal and mindset this year. A whatever-it-takes kind of mindset to get all of what we want. It's going to be a good year. Can't wait."
In addition to seeing how Williams will follow up his Heisman season, USC coach Lincoln Riley has other reasons to be excited, as he feels like his team is extremely deep heading into the season opener.
"Little more competition across the board. There was probably less position battles at this point (last year), or you kind of knew who was gonna play," Riley said. "But there's still a lot of youth on this team.
"We've got a lot of work to do, we got a lot of growing. We'll have to grow some during these early games."
Riley, also entering his second season in LA, led the Trojans to an 11-3 record in 2022.
The Spartans have lost all five of their all-time meetings with USC, but San Jose State coach Brent Brennan believes this year's group has what it takes to end the losing streak.
"It's been a great training camp, our players have worked extremely hard," Brennan said. "I feel really good about our coaching staff and the teaching and just the vibe and the culture of this team I think is really healthy. As you look at our schedule, we're gonna need it. We're opening with an incredible opponent with USC."
Chevan Cordeiro, who was named Mountain West Preseason Offensive Player of the Year, returns as the starting quarterback for SJSU.
Cordeiro spent four seasons at Hawaii before joining the Spartans last season. He tallied 3,251 yards passing with 23 TDs and six interceptions.
Brennan is preparing for Cordeiro's counterpart, and knows that slowing down Williams will be a tall task.
"We're playing against the best player in America, right? And so that presents a whole different kind of challenge," Brennan said. "He's very strong, it's hard to get him down, and his ability to make every throw — whether he's in the pocket or on the move — makes him incredibly hard to defend.
"So that's gonna be a big challenge for our team."
San Jose State safety Tre Jenkins will look to help disrupt the Trojans' passing attack. A three-time All-Mountain West honorable mention, Jenkins tied a career high with two interceptions last season to go along with a career-best seven pass breakups.
—Field Level Media