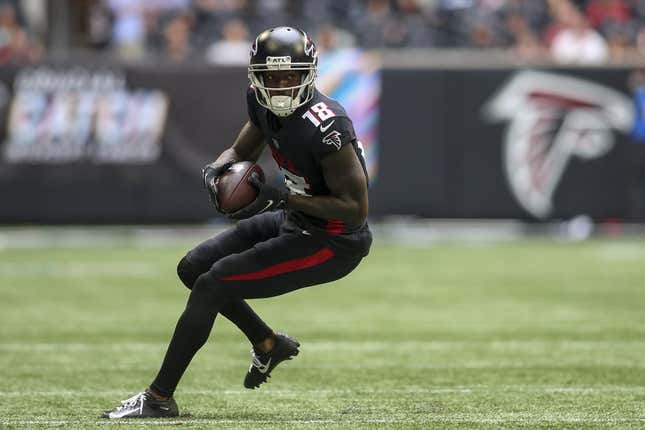 Jacksonville Jaguars wide receiver Calvin Ridley admitted to battling depression and anxiety during the time in his life that ultimately led to a year-long suspension by the NFL.
How running an NFL team is like running a restaurant | Chef Emeril Lagasse
Ridley's admission came during his 2,341-word article entitled "A Letter to the Game" in The Players' Tribune on Wednesday, two days after he was reinstated by the league for placing bets on league games.
Ridley, 28, wasted no time getting to the heart of the matter in Wednesday's article.
"To the football world, and everyone who loves this game: I (expletive) up. I'm not here to sugarcoat anything. In 2021, I made the worst mistake of my life by gambling on football," Ridley wrote.
"I paid the price, believe me. I've seen all the jokes. I've seen all the hate. And I can shoulder all of that, no problem. All I want is for people to understand that, when I made those bets, there was a hell of a lot more going on with me.
"This is hard for a dude like me to talk about, but I want to be real with everybody. Back then, I was depressed. I was battling anxiety. I didn't even want to leave my house. Football was the only thing that ever gave my life meaning, and I couldn't even find any joy in that at the time. Honestly, I couldn't even get up off the chair in my living room. Everything was just ... dark."
Ridley detailed that he had played most of the 2020 season with a broken foot. He posted career-best totals in catches (90) and receiving yards (1,374) with the Atlanta Falcons, while his nine touchdowns were one short of his rookie season.
"I was killing it on one foot, for real," Ridley wrote. "Actually, I had played through bone spurs my first two years. Just gritted through it with painkillers. But then, my third year, the wheels came off. Week 8, we were playing Carolina and I remember looking at (then-teammate Julio Jones) and I just knew. I said, 'Nah, bro, this is different.'
"When I got the MRI, though, the trainer told me it was just a bone bruise. So I kept pushing. I took Toradol shots every Sunday, and I finished the season. Listen, I know the deal. I'm a football player. It was my decision. I know what we get paid for, you feel me? If it's really just a bruise, I'm gonna be out there."
Ridley admitted that he rushed back to the team to start the next season given his top-wideout slot following the departure of Jones. He then noted that his house was robbed following the season opener in 2021, during which he saw "five or six guys come in with guns drawn. If you have a child, that's your worst nightmare. My wife was traumatized. She couldn't sleep at night. She couldn't stand me being out of the house."
Ridley noted the anxiety had ratcheted up at that point -- and he stepped away from the team following Week 7.
"I wasn't good. It's as simple as that," Ridley wrote. "I'm as mentally strong as they come, believe me. But I really just needed a break. So I stepped away from the team."
While away for approximately a month, Ridley said he made a "stupid" mistake.
"I was still just so depressed and angry, and the days were so long. I was looking for anything to take my mind off of things and make the day go by faster," he wrote. "One day, I saw a TV commercial for a betting app, and for whatever reason, I downloaded it on my phone. I deposited like $1,500 total, literally just for something to do. I was going to bet like $200 on some NBA games that night, but then I just added a bunch more games to a parlay. I put the Falcons in on it. I was just doing it to root on my boys, basically. I didn't have any inside information. I wasn't even talking to anybody on the team at the time. I was totally off the grid.
"Whenever people ask, 'What were you thinking?' The only answer I can give is, 'I wasn't.'
"When you're depressed, you're not thinking about anything in the future. You're just trying to get through the day."
Ridley admitted to placing $1,500 in wagers on NFL games in 2021. He bet on games between Nov. 23-28, 2021.
The Jaguars acquired Ridley at the trade deadline last Nov. 1, sending a 2023 fifth-round pick and a conditional 2024 fourth-rounder that could potentially become a second-round pick to the Falcons.
"Right now, I feel stronger than I've ever felt -- mentally and physically," Ridley wrote. "On the field, I'm flying. Believe me, I'm flying. That GPS band don't lie. On my daughter's name, if I'm healthy? With Trevor Lawrence? I'm giving Jacksonville 1,400 yards a season, period."
--Field Level Media