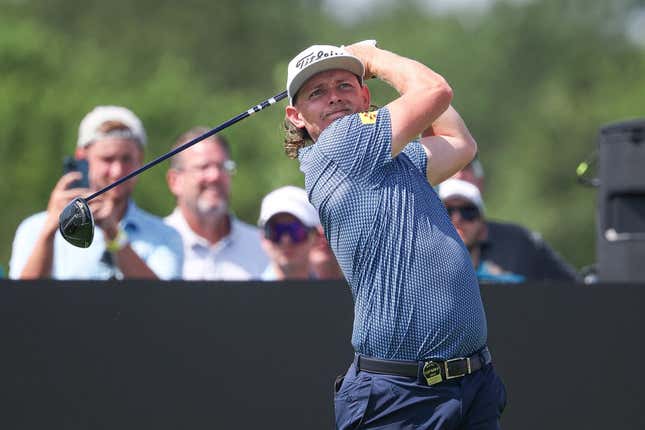 Cameron Smith of Australia shot a 5-under-par 66 to set the pace after one round of LIV Golf Bedminster on Friday in Bedminster, N.J.
How running an NFL team is like running a restaurant | Chef Emeril Lagasse
Smith, who won his first LIV title last month at London, leads Charles Howell III by one stroke heading into the weekend at Trump National Golf Club.
The 2022 Open Championship winner from Australia is ranked No. 8 in the world and No. 2 in the LIV standings, just 15 points behind three-time winner Talor Gooch.
"I don't go to bed thinking about it, but I know (where I stand)," Smith said. "That was part of the reason for the work, the extra work this week. It's to be the best at the end of the season. That's what you want to be.
"Sure, you want to win tournaments, but I think proving it over 13 tournaments is much better than one."
Smith was not yet a member of the Saudi-funded league when Sweden's Henrik Stenson won last year's event at Trump National. That didn't stop him from piling up six birdies and recording only one bogey in his introduction to the course.
"The rough is pretty gnarly," Smith said. "I think if these greens were firm and fast, it would be a really tough test of golf, and it would be tough to break par."
Howell's roller-coaster round featured an eagle 2 at the ninth hole, six birdies and four bogeys.
Tied for third at 3 under are two 4Aces teammates, Patrick Reed and captain Dustin Johnson. Reed made three birdies in a bogey-free round, while Johnson overcame a double bogey with five birdies.
4Aces have led the team competition for most of the season, but their advantage was trimmed to seven points last week when 4Aces finished dead last out of 12 teams.
"Definitely shocked, of course," Reed said. "Our team is way better than finishing last in a golf tournament. But at the same time, you just kind of go to one of those golf courses that doesn't really fit your eye, and it happens not to fit a couple other guys on the team's eye, either, you can just kind of get in one of those funks.
"I think that's all it was last week, was more of a funk."
As for the team competition at Bedminster, Smith's Ripper GC has a narrow lead at 4 under. Marc Leishman shot an even-par 71 and Jediah Morgan posted a 1-over 72 for the all-Australian squad.
4Aces (Johnson, Reed and Peter Uihlein's 3-over 74) are tied for second with Stinger GC at 3 under. Dean Burmester leads the all-South African Stinger with a 2-under 69.
—Field Level Media