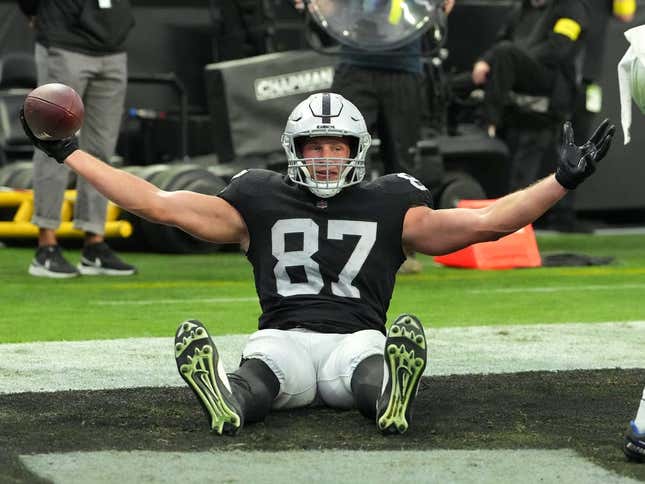 New Orleans Saints tight end Foster Moreau participated in the first day of organized team activities on Tuesday, roughly two months after being diagnosed with Hodgkin's lymphoma
How running an NFL team is like running a restaurant | Chef Emeril Lagasse
Moreau told reporters that his treatment was complete and expressed gratitude that the Saints and general manager Mickey Loomis remained interested in signing him as a free agent after his diagnosis
"I'm just sitting there with (Saints team doctor) Dr. John Amoss, and he just starts to describe to me the different symptoms that I'm showing," Moreau said. "Obviously, that primary symptom of having an enlarged lymph node in my left clavicle ... I went home, cried. It was a really tough moment
"It was so much stress that it kind of built up through the entire free-agency process, and then all that melted away into a completely different mountain that now had to be climbed. But we got over it and watched the film and decided to get better."
Moreau had a rare and slow-moving form of Hodgkin's lymphoma, and treatment included receiving a drip infusion "for about six to eight hours, (for) one day, probably a month and a half ago." He then received medication via shots.
"The day after the diagnosis, the day after the physical, my agent got a call from Mickey Loomis and he said, 'We're still interested in him. We still value him as a player and even more as a person,'" Moreau said.
"That was so comforting for me, knowing that regardless of where I went through this process, there was a real good chance I wind up here."
It was also comforting because Moreau is a New Orleans native who played his college ball at LSU. A fourth-round pick of the Raiders in 2019, Moreau also got to follow his former Las Vegas teammate Derek Carr to New Orleans.
"I don't want to undersell what that man just walked through," Carr said of Moreau. "It's pretty scary news and a pretty scary thing to go through and for him to be out there already, I'm not going to get into his business but it's pretty miraculous. I know he's thankful."
Moreau did not want too much attention for what he went through, implying most cancer patients have it much rougher than he did.
"My quality of life did not change," Moreau said. "I'll continue to fight this as long as I need to and as many times as I need to fight this and then go back into remission I will, and that'll be a life sentence for me. But in terms of the struggle that I had to face, was more mental than anything.
"The real heroes are the kids in the children's hospitals that are really fighting with real chemotherapy, real radiation. Those are the strong ones."
In four seasons with the Raiders, Moreau played in 61 games (34 starts) and caught 91 passes for 1,107 yards and 12 touchdowns. He had career highs of 33 receptions and 420 yards in 2022, with two touchdowns.
--Field Level Media