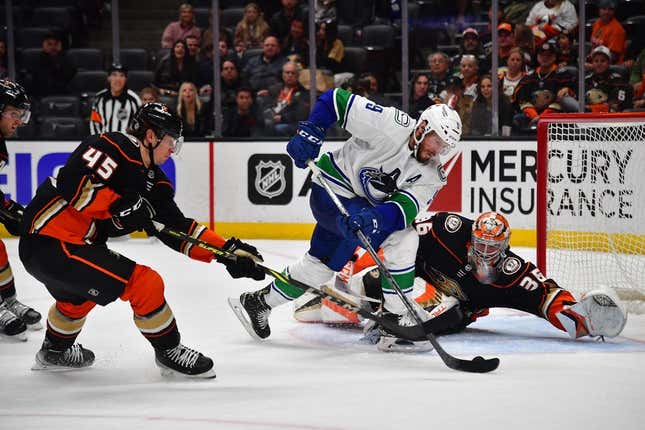 Elias Pettersson crafted his first career 100-point season as the visiting Vancouver Canucks won 3-2 at Anaheim on Tuesday, handing the Ducks their 12th straight defeat
In notching his fifth straight multipoint outing against Anaheim, Pettersson dealt out two assists to give him 38 goals and 63 helpers on the season.
The Canucks (37-37-7, 81 points) won all four games against Anaheim this season and are 16-9-1 within the Pacific Division
J.T. Miller netted his 200th career goal for the game-winner, and Brock Boeser and Andrei Kuzmenko recorded power-play goals for Vancouver.
Goaltender Thatcher Demko made 33 saves and recorded an assist on Kuzmenko's breakaway score.
Vancouver improved to 19-12-4 under new coach Rick Tocchet.
Falling to 0-10-2 in their past dozen matches, the Ducks (23-46-12, 58 points) got goals from Mason McTavish and Drew Helleson. Trevor Zegras had two assists and Troy Terry passed out the 100th of his career
Anaheim goalie Lukas Dostal stopped 33 shots.
Signed by the Ducks on Monday, former University of Minnesota defenseman Jackson LaCombe skated 18:24 and was minus-1 in his NHL debut
The Canucks owned a pedestrian 6-3 shot advantage through the first eight minutes before Anaheim's Jakob Silfverberg and Zegras went off for infractions 2:24 apart
At 12:14 of the first period, Boeser put the visitors on the board by tapping in his 18th goal at the far post on a pass from Pettersson.
Boeser then retrieved the puck after the primary assist for Pettersson's 100th point.
Kuzmenko took a crisp stretch pass from Akito Hirose, backed netminder Dostal into the net as if it were a shootout attempt and zipped in his 39th tally two minutes later for a second power-play score.
Demko was awarded the secondary assist on the marker, giving him his fourth career helper and first since he posted two in the 2021-22 season.
Anaheim went on a man advantage when Kyle Burroughs slashed McTavish at 16:33 of the first.
McTavish then notched his 17th goal 47 seconds later to cut the deficit to 2-1 after one period.
Late in the second, Helleson registered the first even-strength marker by firing a long shot that went in for the defenseman's first career goal in his second game.
Just 86 seconds into the final period, Miller found a rebound and potted his 31st goal -- Vancouver's first at even strength.
The Canucks killed off a late penalty to preserve the win
--Field Level Media