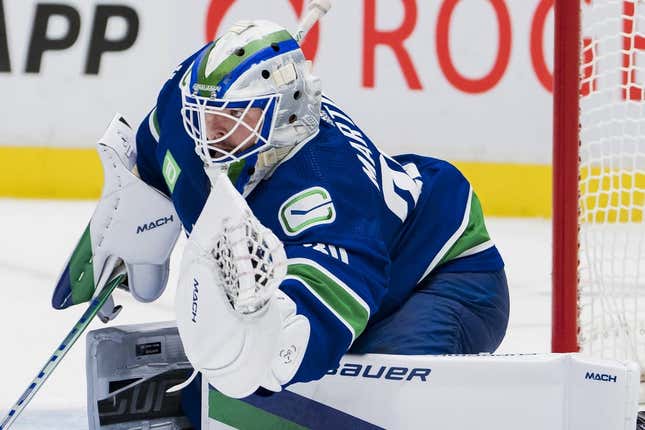 The Vancouver Canucks seem determined to finish the season on a high note.
The Canucks will try to match their season high with three wins in a row when they host the Anaheim Ducks on Wednesday night.
Vancouver probably won't come close to improving on its 92-point season from a year ago, but it seems to be heading in the right direction under coach Rick Tocchet, who was hired on Jan. 22 to replace Bruce Boudreau.
The Canucks are 8-7-2 so far under Tocchet, most recently beating the Nashville Predators 4-3 in a shootout on Monday.
Elias Pettersson scored his 30th goal of the season in the win, which also made him the first player from the 2017 NHL Draft class to reach 300 points for his career.
"That's obviously something I'm very happy with and I'll just keep going," Pettersson said.
Dakota Joshua also scored against Nashville, giving him nine goals in 60 games this season and showing he's more than just a fourth-line grinder.
"He's chipping away at his game," Tocchet said.
Tocchet has been putting some of his younger players in higher level situations, such as playing Vasily Podkolzin and Vitali Kravtsov late in the third period against the Predators and again during overtime.
Podkolzin was the 10th overall pick of the Canucks in 2019, and Kravtsov was selected ninth overall by the New York Rangers in 2018.
"I wanted to see those kids under pressure," Tocchet said. "It's actually a great learning experience."
Podkolzin scored his second goal in four games to give Vancouver a 2-1 lead after the first period against Nashville. He was grateful for the opportunities late in the games as well.
"It's always fun to have a chance to get shifts in overtime and play in the last minutes of the third period -- that's always appreciated," he said. "You need to understand to play confident. My goal was a good moment for me and that's what I need to do for our team."
The Ducks are coming off a 5-2 loss against the host Seattle Kraken on Tuesday night.
The game won't be remembered so much for the final score as the latest trick shot by Ducks center Trevor Zegras.
He managed to pull the puck between his skates while barreling down on the Seattle net, reached through his legs and flicked the puck high into the net with the blade of his stick for his team-leading 21st goal of the season.
"I saw that our D had some room with the puck and (Ryan Strome), our winger, was kind of stretched out, so I just tried to get up the ice and support him," Zegras said. "He gave me a great pass over the guy's stick and I just tried to make a play and it worked out, so I'm happy it went in."
Zegras may be the flashiest player in the NHL, but he's had to reel in his emotions in recent weeks.
He was benched during a game last week by coach Dallas Eakins after arguing with an official and receiving an unsportsmanlike conduct penalty.
"I put a lot of energy and focus into hockey and, sometimes, when it doesn't go my way, I get a little angry and upset," Zegras said. "Dallas has been great with me. Ever since I got here, with letting me be myself and letting me be the kid that I am."
--Field Level Media