Though Islanders fans enjoyed Sunday's 2-1 overtime win, the opposing fans did not, for more than the obvious reason. A few Capitals fans say they had a horrible experience at Nassau Coliseum for Game 3.
Nate "Igor" Smith, a Caps fan who lives in Brooklyn, wrote about the hostility he and his friends received in Uniondale. For the most part, Smith said, Islanders fans were good-natured, but some of the behavior crossed the line:

When the game went to overtime and the Islanders won the fans around us started kicking our chairs and pounding on the seat backs on either side of our heads. The guys in front of us turned around and gave us the middle finger. As we left I had people yell "FUCK YOU" in my face and of course more "faggots" and comments about Fatou's "black hair".

When we made it to our cars we noticed that our friend Justin's car had been keyed twice and his rear license plate had been stolen. A few Islanders fans could't believe it and were pretty great about it but another drunk fan started screaming and bumping up into the face of several of our crew. At some point one of our members pushed him away after he jumped into us and that nearly started another brawl. I fortunately broke it up since I had no interest in going to jail but the guys still pissed right next to my friends car so that he had to stand in a puddle of urine to get into his car.

There was of course almost no security in the parking lot so when a couple of security guards finally came by in a golf cart we stopped them to let them know what happened to Justin's car. They just told him to call the cops and as they drove off I saw one of them turn to the other and started laughing about the stolen license plate. It was pretty infuriating.
Smith has a photo of the damage to his friend's car on his site.
The Washington Post spoke with Fatou Bah, the woman mentioned in Smith's letter.
"I don't want this coming off like we're whiny and we're so upset they were mean to us. We expected the boos. I expected the f-word," said Bah, who has attended Redskins games at the Oakland Coliseum and the Meadowlands and Caps games at Madison Square Graden. "I did not expect the hatred. It felt almost like there would be violence. I've never experienced something like that."

She also said the group was showered with homophobic slurs.

"Homophobia, vandalism, racism, all on a Sunday," she said. "I guess we checked all of those off."
G/O Media may get a commission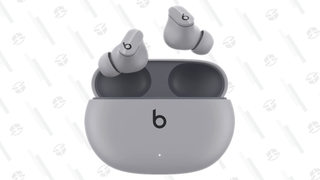 [Driven By Boredom | Washington Post]
Photo: AP