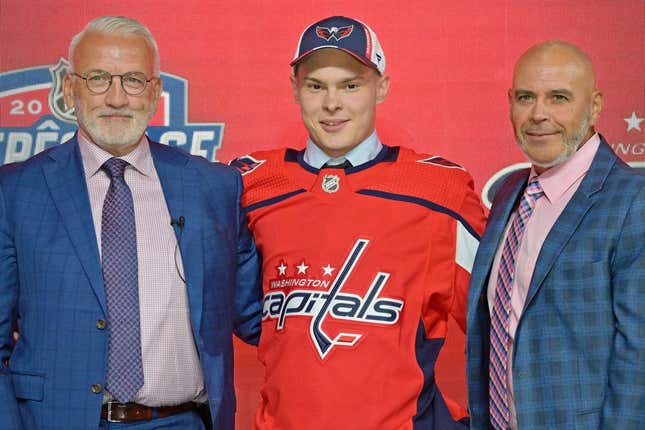 The Washington Capitals signed forward Ivan Miroshnichenko, their first-round pick in the 2022 NHL Entry Draft, to a three-year entry-level contract Monday
Miroshnichenko and Avangard Omsk of the KHL agreed to a mutual contract termination Monday, allowing him to sign with the Capitals
Miroshnichenko, 19, was the 20th overall pick in last year's draft. The 6-foot-1, 185-pound forward will make $855,000 in the NHL and $82,500 in the AHL.
The Ussuriysk, Russia native recorded four points (three goals, one assist) in 23 games with Avangard Omsk this season, averaging 8:27 of ice time.
Miroshnichenko also recorded three assists in four games with Omskie Krylia in the Supreme Hockey League and 14 points (10 goals, four assists) in 12 games with Omskie Yastreby in the Junior Hockey League this season.
He tallied seven points (two goals, five assists) in 16 playoff games with Omskie Yastreby.
Miroshnichenko spent the 2021-22 season with Omsk Krylia and recorded 16 points (10 goals, six assists) in 31 games. He also captained Russia to the gold medal at the 2021 Hlinka Gretzky Cup, recording nine points (four goals, five assists) in five games.
Miroshnichenko ranked third among European left wings and 11th among all European forwards by NHL Central Scouting ahead of the 2022 draft.
--Field Level Media