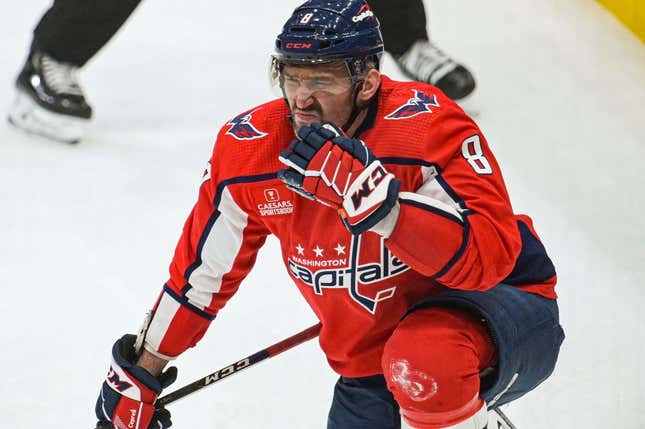 The Washington Capitals visit the Montreal Canadiens on Thursday in their first game since being eliminated from playoff contention
'Soccer fandom is full of gatekeepers' says Ted Lasso actor Brendan Hunt
A streak of eight straight postseason appearances, including one that concluded with a Stanley Cup title, will end as the Capitals were unable to close ground on a wild-card spot over the final month of the season
After a torrid December, Washington (34-34-9, 77 points) has since posted a 13-21-4 record -- including a 1-5-2 mark in their past eight games.
The Capitals played long stretches without stars including defenseman John Carlson, Nicklas Backstrom, Tom Wilson and T.J. Oshie
"I'm disappointed about where we are in the standings right now, everybody is," Washington coach Peter Laviolette said this week. "The fact is we were in the games we needed to win and we didn't get it done. It doesn't have anything to do with who was in the training room and who was on the ice, we had chances in certain games and it didn't happen."
The Capitals fell behind 3-0 and dropped a 5-2 decision to the New York Rangers on Sunday. Dylan Strome and Aliaksei Protas each scored a goal and Carlson had two assists
"Obviously our starts haven't been good," Strome said. "It feels like we're down 2-0, 3-0 every game. Got to find a way to start better and not be chasing the game."
Oshie (upper body) and defenseman Trevor van Riemsdyk (upper body) did not travel to Montreal, a place that has been very accommodating to the Capitals of late. Washington has won three straight in Montreal and has earned at least one point in 19 of its last 20 games at Bell Centre (17-1-2)
The Canadiens (30-42-6, 66 points) have lost four straight (0-3-1) while being outscored 16-4. They have been shut out in consecutive games, including a 5-0 loss to the Detroit Red Wings on Tuesday
Cayden Primeau, who was recalled from Laval of the American Hockey League last week, made 16 saves in his second start in the past four games. It was a step back after the 23-year-old stopped 24 of 26 shots against the Philadelphia Flyers.
"There's a few plays that probably no goalie stops so it's tough for him," Montreal captain Nick Suzuki said. "We want to play better. It's a big opportunity for him to show what he can do at this level, and we know he can be a really good goalie in the future."
The undermanned Canadiens will be looking to avoid suffering three consecutive shutout losses for the first time since March 2011
"We've got four games left and you can just lay off the gas and ride into the offseason or realize that everybody that's playing right now is getting put in a position they haven't been put in before, whether it's ice time or opportunity," Canadiens defenseman Mike Matheson said. "You spend a lot of time wishing for that, and so this is the chance to do something with it.
The Capitals have won the first two games versus the Canadiens by a combined score of 12-3, including a 9-2 victory in Washington on Dec. 31 that featured a hat trick by star captain Alex Ovechkin
--Field Level Media