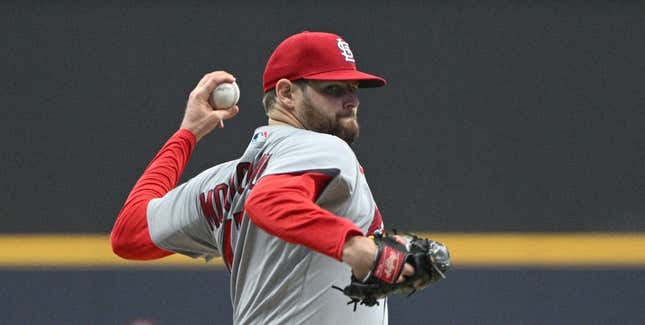 The St. Louis Cardinals are trying to dig out from a 3-7 start that plunged them into the National League Central basement
Air Jordans are more American than McDonald's French fries | Deon Cole's Ultimate Sports Fantasy
After winning back-to-back games to claim a three-game series in Colorado, the Cardinals open a seven-game homestand when they oppose the Pittsburgh Pirates on Thursday
"We really turned the page," Cardinals outfielder Tyler O'Neill told Bally Sports Midwest after his team defeated the Rockies 7-4 on Wednesday. "Just a flip in the energy in the clubhouse. Everyone's very positive and knows we've got each other's backs. We really brought the energy yesterday and today. It's really good to see. The bats are starting to come alive.
Jordan Montgomery (2-0, 2.25 ERA) will start the series opener against the Pirates. He allowed three hits in seven innings in his latest start, a 6-0 victory at Milwaukee on Saturday. He struck out nine batters and walked two
Montgomery is 1-1 with a 3.00 ERA in two career starts against the Pirates
Rookie outfielder Jordan Walker has helped lead the Cardinals' offense while becoming the youngest player in major league history to start his career with a 12-game hitting streak. Walker, 20, is batting .319 with a .849 OPS
"I'm amazed at how consistent he's been from spring training till now," teammate Nolan Arenado said. "I've been really impressed with his routine, like his cage work. He really sticks to it. He doesn't shy away from what he does. That maturity at 20 years old? I didn't have that."
Arenado (.327 average, two homers, 13 RBIs), Nolan Gorman (.313, four homers, 10 RBIs) and Paul Goldschmidt (.364, one home run, seven RBIs) have also enjoyed strong starts at the plate for St. Louis.
Cardinals outfielder Dylan Carlson missed the last two games due to a stiff neck. He is questionable for Thursday
"When everybody gets right, it's a pretty good lineup," St. Louis manager Oliver Marmol said. "There are still guys who are not clicking. Once they all start clicking, it will be pretty good."
The Pirates won five out of six games before losing two of three games to the powerful Houston Astros to close their six-game homestand
"I think we did a good job," Pirates manager Derek Shelton said. "We played the defending world champions and we saw their three best pitchers.
Pittsburgh pitcher Rich Hill said, "This is a very good team. We shouldn't be hanging our heads, so to speak. We have a big series coming up against St. Louis. That's our focus now is to move on to that. We've played some really good teams."
The Pirates will turn to Vince Velasquez (0-2, 9.82 ERA) as they open a seven-game road trip. The right-hander lasted just 2 2/3 innings in his latest start, an 11-5 loss to the Chicago White Sox on Saturday. He allowed five runs on six hits and four walks with one strikeout
Velasquez is 1-3 with a 5.67 ERA in seven career appearances against the Cardinals, including six starts
Pittsburgh's offense is paced by Bryan Reynolds, who is hitting .347 with five homers, 14 RBIs and two stolen bases. Andrew McCutchen is batting .323 with a .960 OPS.
--Field Level Media