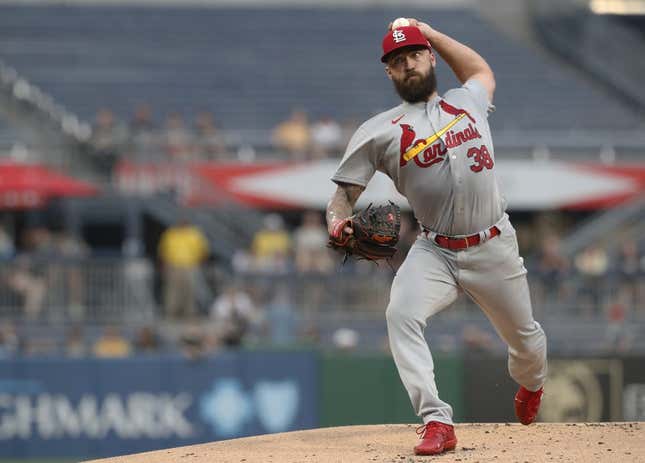 St. Louis Cardinals left-hander Drew Rom struggled through an ugly big league debut at Pittsburgh on Aug. 21 while allowing eight runs in 3 2/3 innings.
How running an NFL team is like running a restaurant | Chef Emeril Lagasse
Rom (0-2, 8.00 ERA) will get a quick rematch against the Pirates on Saturday in the middle contest of three-game set in St. Louis.
The Pirates (62-73) won the opener 4-2 in 10 innings Friday for their fourth straight victory. The Cardinals (58-77) have lost 11 of their past 15 games.
Rom never settled in against the Pirates in his debut. He allowed the eight runs (six earned) on eight hits, four walks and a wild pitch as the Cardinals suffered an 11-1 loss.
Joshua Palacios belted a three-run homer, Liover Peguero hit a two-run single and Connor Joe scored four times and hit an RBI double off Rom in that game.
Rom's second start for the Cardinals went much better. He held the Philadelphia Phillies to two runs on five hits in 5 2/3 innings.
He took lessons learned against the Pirates and applied them versus the Phillies.
"I was able to take a lot of the adrenaline, a lot of the anxiety and kind of bottle that rather than try to tamper it down," Rom told the St. Louis Post-Dispatch. "Last time, I was just letting everything speed up on me and just kind of going out there and throwing rather than pitching. I think that was what really hurt me, losing my mechanics and what got me here and just not telling myself to calm down."
In Rom's second start. Phillies slugger Kyle Schwarber hit his first pitch of the game for a homer.
"At that point, it's just time to take a breather and just figure it out," Rom said. "Just go pitch-by-pitch at that point. ... After that, it was just kind of go out there and pitch, do my thing. It happened, so you can't really take it back. All I can do is just focus on the next one."
As for the Pirates, right-hander Thomas Hatch (1-1, 3.20) will come out of the bullpen to start. His only start of the season came Aug. 21 at home against the Cardinals, and he threw two hitless innings. That is his only career appearances against Pittsburgh.
The Sept. 1 roster expansion allowed the Pirates to promote infielder/outfielder Miguel Andujar from Triple-A Indianapolis and bring reliever Carmen Mlodzinski off the 15-day injured list.
Andujar, once an everyday player for the New York Yankees, hit .338 with a .940 OPS in 103 games at Indianapolis.
"One of the things we continue to look at is if he's having good at-bats and if he's hitting the ball hard and he did that for most of the year in Indy," Pirates manager Derek Shelton told AT&T Sportsnet.
Mlodzinski was sidelined with elbow soreness before returning to action Friday.
"He's done a lot well," Shelton told the Pittsburgh Post-Gazette of Mlodzinski. "We're talking about a converted starter who has pitched in high-leverage situations."
Shelton scratched outfielder Palacios from Friday's lineup due to left wrist soreness. He will be questionable Saturday.
The Cardinals activated outfielder Lars Nootbaar (lower abdomen contusion) from the 10-day injury list and closer Ryan Helsley (forearm soreness) from the 60-day IL ahead of this series.
—Field Level Media