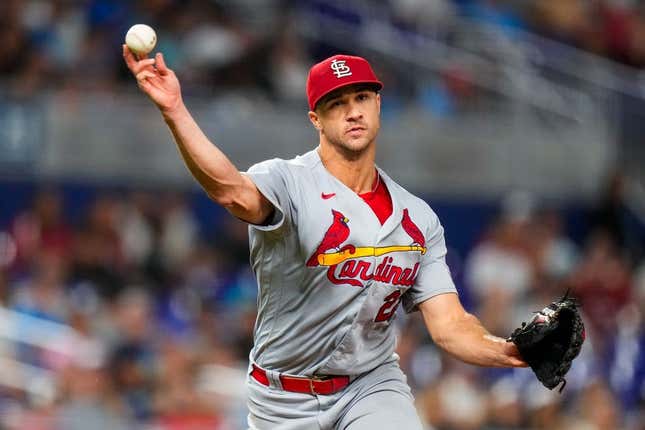 St. Louis Cardinals starting pitcher Jack Flaherty's strong showing this month likely has boosted his trade value
How running an NFL team is like running a restaurant | Chef Emeril Lagasse
The Cardinals hope that trend continues Sunday afternoon when he draws the start in the finale of the three-game series against the visiting Washington Nationals. Washington posted a 7-5 win in the completion of a suspended game on Saturday before St. Louis responded with a 9-6 victory
Flaherty (6-5, 4.27 ERA) tossed 12 2/3 scoreless innings in his first two starts this month. He allowed 13 hits and four walks while striking out nine en route to extending his winning streak to three games.
A more aggressive mindset helped him avoid early trouble in those two outings.
"You can't try to feel your way through the first, kind of set the tone," Flaherty told the St. Louis Post-Dispatch. "Going on the attack from pitch 1 and then you can get into the flow. ... It starts the second you cross the line from coming out of the dugout. It's attack from pitch 1. Go out and see how many first-pitch strikes you can get but really just setting the tone in the first inning. You can't really coast into the game. You've got to come out and do it -- right away."
Flaherty could become a free agent after this season, and Cardinals president of baseball operations John Mozeliak has indicated the team will listen to trade offers on players with expiring contracts
In his final two June starts, Flaherty allowed 12 runs on 20 hits and four walks in 10 2/3 innings.
"I think Jack has elite stuff -- for him it's just a matter of being as consistent as possible," Cardinals third baseman Nolan Arenado told the Post-Dispatch. "If he's consistent, he is as good as anybody out there.
Flaherty earned an 8-6 victory over the Nationals on June 19 despite allowing those six runs on 10 hits in 6 1/3 innings. Lane Thomas hit two doubles against him and Luis Garcia drove in four runs in that game
Flaherty is 3-1 with a 3.62 ERA in five career starts against Washington.
The Nationals have won four of their previous five series heading into Sunday's rubber match of the set
"Personally, I don't like it when other teams see us as a small team," first baseman Joey Meneses told MLB.com through an interpreter. "It gives us a little more motivation to just go out and play well, and hopefully, it goes in our favor."
Josiah Gray (6-7, 3.41) will return to the mound for the Nationals after making his All-Star Game appearance. He threw a shutout inning of relief in that game
Gray lost to the Cardinals on June 19 after allowing six runs on nine hits in five innings. Paul Goldschmidt and Brendan Donovan each hit a homer off him in that game
He is 0-2 with a 9.45 ERA in three career starts against the Cardinals
In the first two games of this series, CJ Abrams went 4-for-9 with two stolen bases, five runs and a homer.
"He's a game changer when he's swinging the bat well and running the bases," teammate Lane Thomas told MLB.com of Abrams. "It's hard to defend."
The Nationals might be missing third baseman Jeimer Candelario in the series finale. He sat out Saturday's action with a bone bruise on his right thumb
--Field Level Media