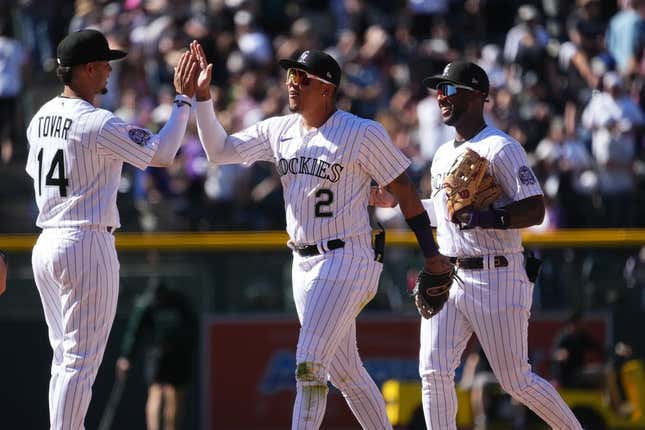 Nolan Arenado is returning to Coors Field, a place where he established himself as an All-Star and Gold Glove third baseman.
'Soccer fandom is full of gatekeepers' says Ted Lasso actor Brendan Hunt
Arenado and the St. Louis Cardinals hope the Denver venue will be a place to turn around their season
St. Louis, which entered 2023 with World Series aspirations, has dropped five of its last six games, including a 6-1 loss at Milwaukee on Sunday.
Left-hander Steven Matz (0-1, 6.75 ERA) will go against Colorado Rockies right-hander German Marquez (1-1, 4.76) on Monday night in the first of three games in the Mile High City
The Cardinals have a strong lineup but have struggled offensively in their five recent losses. They've scored only eight total runs during those defeats, including a mere four runs in their last four losses
St. Louis did break out in a 6-0 win over the Brewers on Saturday night, which featured Arenado's 300th career home run.
It was Arenado's first long ball of the season, which is unusual for a player who has eclipsed the 40-home run mark three times. Even though he hasn't put up the power numbers in the first nine games, he is hitting .351.
"There's this feeling I want to find, and I feel like I'm getting closer to that, and I'm just trying to kind of find it more consistently," Arenado said. "It's frustrating when you don't find it. It's a long season. I'm just trying to battle right now. I know there's a good feeling there. Hopefully it comes soon."
Matz will try to bounce back from his first start of the season, when he allowed four runs on 10 hits in 5 1/3 innings on Tuesday against the Atlanta Braves. He is 1-5 with a 7.22 ERA in seven career starts against the Rockies and 0-2 with a 9.20 ERA in three Coors Field starts
Marquez is making his first home start of the season after two outings on the road -- Opening Day at San Diego when he got the win and most recently a loss at the Los Angeles Dodgers on Tuesday.
Marquez has pitched well against the Cardinals, going 2-2 with a 2.83 ERA in eight career starts against them
He hopes for the run support the Rockies' offense showed over the weekend. Colorado beat Washington 7-6 Sunday afternoon to earn a split of the four-game series and nearly took three of the games, but a ninth-inning rally on Saturday came up short
Mike Moustakas, who signed a minor league deal with the Rockies in March, has sparked rallies in the last two games. He had a 10-pitch at-bat in Saturday's ninth inning that ended with a two-run homer, and he drew a walk in the four-run sixth Sunday that led to Colorado's win
He won a World Series with Kansas City in 2015 and sees potential in the Rockies' lineup
"We've got a lot of great players on this team, and we've got some young guys," he said. "They're still learning the big leagues, and the more we get into this year, the better off we're going to be. We've got a really talented lineup -- even guys coming off the bench are super talented."
--Field Level Media