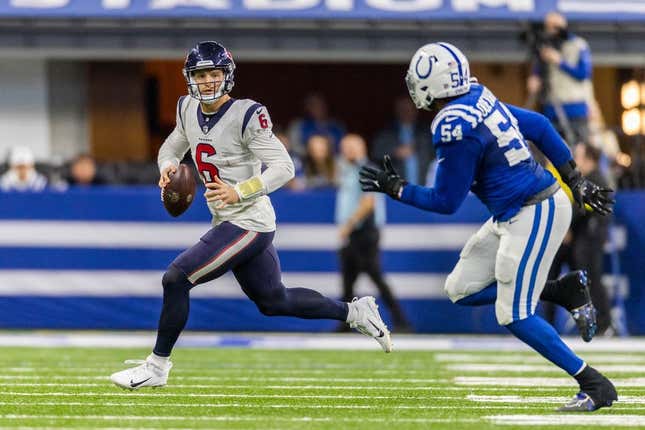 As NFL teams returned to their practice facilities this week for offseason workouts, several teams signed their own restricted free agents or secured players with "exclusive rights signings."
'Soccer fandom is full of gatekeepers' says Ted Lasso actor Brendan Hunt
The Arizona Cardinals announced they had signed free agent quarterback Jeff Driskel to a one-year deal. Driskel, an NFL reserve since being drafted by the 49ers in the sixth round 2016, has played in 23 games and a 1-9 record as a starter playing for the Bengals (2018), Lions (2019-20) and Texans (2021-22)
Driskel, who worked out for the Cardinals last week, was signed by the team to enter the mix at quarterback while Kyler Murray rehabilitates a torn ACL. Veterans Colt McCoy and David Blough are also on the roster
Elsewhere, the Tampa Bay Buccaneers signed veteran free agent OL Matt Feiler to a one-year deal. Feiler started 33 games at left guard for the Los Angeles Chargers over the past two seasons but was released last month.
Restricted free agent CB Myles Bryant re-signed with the New England Patriots, who last month tendered him an offer, giving them first right of refusal on his services for the coming season. By signing that tender Monday, Bryant is back with the Patriots after starting six games last season and returning punts. He has played in 38 games for the Patriots over the past three seasons and has 123 tackles with three interceptions.
Also, the Washington Commanders defensive back Jeremy Reaves signed his tender and will be a one-year restricted free agent. Reaves, and All-Pro and Pro Bowl selection in 2022 for special teams, has been with Washington for five seasons, playing in 42 games (11 starts) with 102 tackles.
Also, the Packers reportedly signed OT Yosuah Nijman, who started 13 games for them last season. In his three years with Green Bay, Nijman has played in 50 games, starting 21.
--Field Level Media