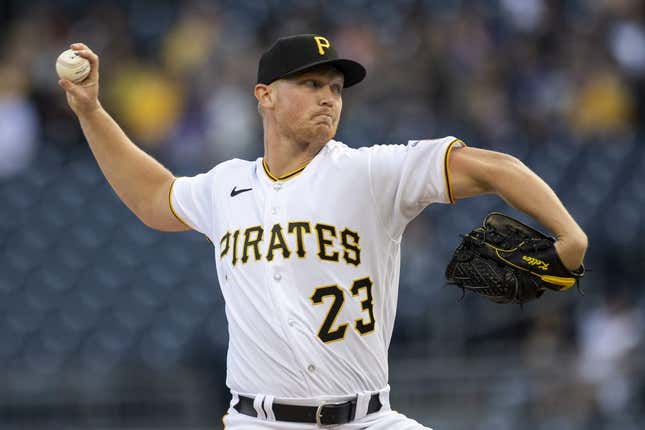 The resurgent Pittsburgh Pirates will look to close out a road series victory over the St. Louis Cardinals on Sunday
Will South Beach Flu give the Heat home court advantage? | Keep it a Buck(et)
The Pirates won 5-0 Thursday night to open the four-game series. After the Cardinals won 3-0 Friday, the Pirates prevailed 6-3 in 10 innings on Saturday
After finishing last season 62-100, the Pirates have started 9-6 this year
"We have a bunch of young players, we have some veteran players. They are coming together, and there's lot of energy and enthusiasm," Pirates manager Derek Shelton said
"I think they are having fun. They are getting comfortable with each other. I think with the veteran guys we have, they provide a sense of calm for our young kids. I don't know if we had that before.
The Pirates will start right-hander Mitch Keller (1-0, 3.57 ERA) in the series finale. Keller has delivered two quality stars in April, allowing just three runs on 10 hits in his last 13 innings
He is 2-1 with a 3.38 ERA in eight career starts against the Cardinals. Tommy Edman (5-for-16, double, three walks, three RBIs) and Lars Nootbaar (4-for-8, double, three walks) have had success against him
St. Louis will counter with struggling veteran Miles Mikolas (0-1, 10.05 ERA). In his last start, the right-hander allowed six runs on 10 hits, including three homers, in five innings of a 9-6 victory at Colorado.
"In some odd parallel universe, I'm not super upset with today," Mikolas told the St. Louis Post-Dispatch. "The team won. The offense really picked me up. We made some great defensive plays. This is a team game. I didn't pitch as well as I would have liked to or anyone would have liked me to, but some days you have bad games. I don't get the win, the team does. The way we've been scuffling out of the gate, that's just the most important thing."
Mikolas is 5-5 with a 3.05 ERA in 19 career appearances against the Pirates, including 16 starts. Bryan Reynolds (9-for-28, four doubles, three RBIs) and Ke'Bryan Hayes (4-for-10, double) have hit well against him
The Cardinals went 2-for-13 with runners in scoring position in Saturday's loss and left nine runners on base. But manager Oliver Marmol cited line-drive outs by Paul Goldschmidt and Nolan Gorman as evidence that his team is taking good at bats
"There were some ups and downs, but at the end of the day we took some swings and didn't get results," Marmol said. "You tell me if I'd take (Goldschmidt's) swing and Gorman's swings to end that game compared to the ones that dropped in for (the Pirates), I'd take our swings. So that's baseball. It sucks sometimes.
The Pirates put first baseman Ji Man Choi on the injured list Saturday with a strained Achilles tendon and called up infielder Tucupita Marcano from Triple-A Indianapolis
"(Marcano has) been playing really well. He's extremely versatile, he gives us another infielder, a guy that can bounce around the diamond a little bit," Shelton told AT&T Sportsnet. "(Tucupita) has been swinging the bat well and deserves to be up there."
--Field sLevel Media