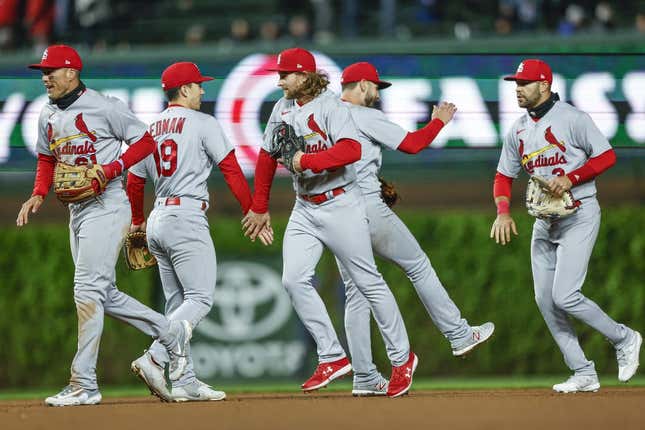 After Willson Contreras made the most of his return to Chicago, the St. Louis Cardinals may finally have some much-needed momentum
Air Jordans are more American than McDonald's French fries | Deon Cole's Ultimate Sports Fantasy
Contreras and the Cardinals can secure their first series win in nearly a month if they can earn a season-high third straight win Tuesday night against the host Cubs. Chicago will look to avoid dropping its third game in a row
Greeted with noticeable cheers, but several boos, Contreras went 2-for-4 with two RBIs on Monday during St. Louis' 3-1 victory in his first game against the Cubs. The three-time All-Star left Chicago to sign a five-year, $87.5 million deal with the rival Cardinals in December
Playing to the crowd for sarcastic applause following his tiebreaking RBI double in the sixth inning, Contreras' bad-guy role this week might provide a spark for St. Louis. The Cardinals are 12-24, the worst record in the National League, but they posted their first series-opening victory of the season on Monday, one day after snapping an eight-game skid with a 12-6 win over the visiting Detroit Tigers
"I was trying to enjoy every second," Contreras, who is batting .294 (10-for-34) with five RBIs in his last eight games, told Bally Sports Midwest. "Looking forward to moving on. I'm on a new team. We're looking forward."
Before the season, the Cardinals planned for Contreras to be their No. 1 catcher, but Oliver Marmol announced over the weekend that Contreras will now play primarily at designated hitter or in the outfield
Before the past two days, St. Louis had last won consecutive games -- and a series -- on April 11-12 at Colorado. In order to remain on the right path, the Cardinals likely need their scheduled Tuesday starter, Jack Flaherty (2-4, 6.29 ERA), to rebound from the worst outing of his career
Flaherty allowed 10 runs and nine hits in 2 1/3 innings during an 11-7 loss to the Los Angeles Angels on Thursday.
"I was hoping to put together a good start. You know what, I didn't fricking do it," said Flaherty, who is 1-3 with a 9.95 ERA in his past four starts after going 1-1 with a 1.76 ERA in his first three.
Perhaps some good news for Flaherty is that the Cubs are batting .170 against him across 15 career appearances (13 starts). He owns a 3-3 record with a 3.28 ERA vs. Chicago
The Cubs started the season 11-6 but are 6-12 since. They have averaged just 3.1 runs and stranded 93 runners during a 3-8 stretch
"Feels like we're getting our knocks, but we're not getting everybody flowing at the right time," Chicago manager David Ross said. "The focus and everything is still there. Just seem (to need) to push one across."
It doesn't help that leadoff hitter Nico Hoerner, batting .303 with 19 RBIs, exited the Monday contest due to left hamstring tightness. On the flip side, teammate Cody Bellinger is batting .344 (31-for-90) in his past 23 games, but he is 1-for-11 vs. Flaherty in his career.
Scheduled Chicago starter Jameson Taillon (0-2, 5.29 ERA) returned Thursday to oppose the Washington Nationals after missing 2 1/2 weeks with a strained left groin. He lasted 42 pitches and three innings, allowing a three-run homer and two other hits.
The right-hander is 3-1 with a 3.15 ERA in nine career starts against the Cardinals but has not faced them since 2019. Contreras is just 3-for-15 against Taillon, although each hit was a double
It was unknown if Cardinals star third baseman Nolan Arenado would be available for the Tuesday game after he was scratched from the Monday lineup because of neck stiffness
--Field Level Media