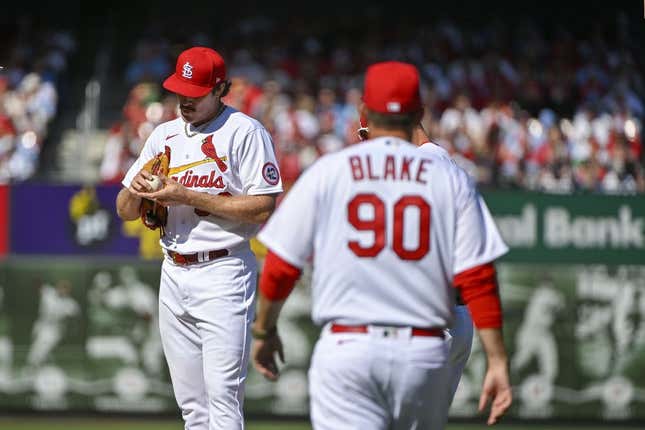 St. Louis Cardinals right-hander Miles Mikolas will try to rebound from an exasperating Opening Day start when he faces the Atlanta Braves on Wednesday
Mikolas (0-0, 13.50 ERA) allowed five runs on 10 hits in 3 1/3 innings as St. Louis opened its season with a seesaw 10-9 loss to the Toronto Blue Jays on Thursday.
"Death by a thousand cuts sometimes," Mikolas said. "I don't think I can remember a game where a team has made that much soft contact and had just about everything drop in for a hit. Broken bats. Just kind of rolling them through the infield."
Mikolas needed 90 pitches to get 13 outs, and he struggled to put away Toronto hitters.
"They've got aggressive hitters, and they really just try to make contact with two strikes," he said. "They hit some good pitches. They made contact. I don't want to take away from them. The contact they made was very, very soft, and I think you even saw some of the reactions from their players that they couldn't believe they were getting hits."
Mikolas, who threw 12 scoreless innings in spring training, will try to get back on track against the visiting Braves in the finale of a three-game home series
Atlanta won the first two games of the set, 8-4 on Monday and 4-1 on Tuesday. Austin Riley (two homers, three RBIs), Ronald Acuna Jr. (5-for-9, double, homer, three RBIs, three runs) and Travis d'Arnaud (4-for-9, two doubles, RBI) have hit especially well for the Braves in the series
However, Atlanta has had balance up and down the order, collecting 22 hits in the first two games of the series.
"It makes it tough on pitchers because it's not one through five," Riley said. "It's that next guy they're having to worry about. I say all the time, 'One through nine can change the game with one swing.' That's pretty special, and it's fun to be part of."
In addition to his offensive exploits, Acuna threw out two runners on the bases Tuesday. He is back to full strength after finally fully recovering from his 2021 knee surgery.
"It's completely different. I feel like last year I would have similar swings and I wouldn't get the same result, whether it be a homer or whatever," Acuna told MLB.com. "Now, it feels like I have the strength that, if I put the swings on it that I want, I get the results that I want."
Mikolas is 1-3 with a 3.04 ERA in five career appearances against the Braves, including four starts
The Braves put injured starting pitcher Max Fried (left hamstring strain) on the injured list Tuesday and promoted right-hander Bryce Elder from Triple-A Gwinnett to make the Wednesday start
In his first start for Gwinnett this season, Elder allowed four runs on five hits over six innings. In his 10 big-league appearances, including nine starts, all of it coming last year, Elder went 2-4 with a 3.17 ERA.
He has not faced the Cardinals in his career
--Field Level Media