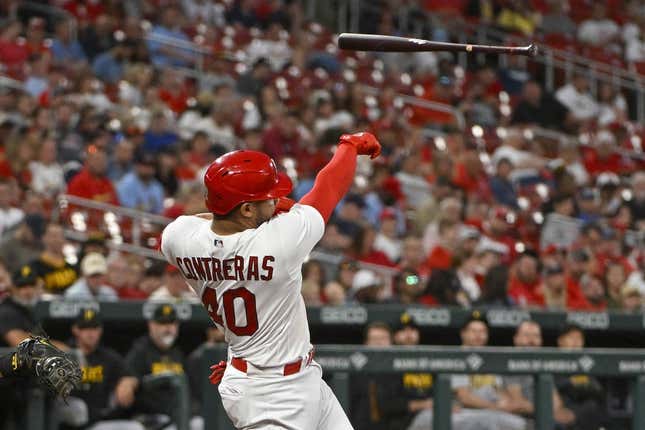 After falling 5-0 to the visiting Pittsburgh Pirates on Thursday in the series opener, the St. Louis Cardinals will try to get their offense back on track as the four-game set continues on Friday night
Does Jimmy Butler have the best NBA Finals origin story? | Agree to Disagree
The Cardinals went 0-for-9 with runners in scoring position and left 10 runners on base as Pirates starter Vince Velasquez and three relievers limited them to six hits
Pirates outfielder Ji Hwan Bae added to St. Louis' frustration by making a catch crashing into the wall to rob Tyler O'Neill of a two-run double
The Cardinals have scored two runs or less five times during their disappointing 5-8 start, and they have a minus-8 run differential. However, manager Oliver Marmol doesn't believe his team is showing signs of trying too hard at the plate
"Pressing hasn't come to mind at all, actually," Marmol said after the Thursday loss. "If you look at our at bats, there's not a whole lot to be mad about. Sure, you want to come through in certain situations -- that's just baseball. But overall quality of plate appearance? Pretty happy with that."
The Cardinals will look to rebound against former teammate Johan Oviedo (1-0, 3.18 ERA) on Friday
Oviedo, a right-hander, earned a 1-0 victory over the Chicago White Sox in his latest start for the Pirates, allowing just five hits and walking none over 6 2/3 innings on Sunday. He struck out five in his 89-pitch outing, one of the most impressive appearances of his career
"He was outstanding," Pirates manager Derek Shelton said. "He was in control the whole game. That's a good lineup. That's a good team, and he executed.
Oviedo is 0-1 with a 3.60 ERA in his two starts against his former team since his trade to Pittsburgh last August.
The Cardinals will counter with right-hander Jake Woodford (0-2, 9.00 ERA), who has been filling in while starting pitcher Adam Wainwright recovers from a groin muscle strain
After allowing six runs in 4 1/3 innings against the Atlanta Braves in his first start of the season, Woodford was somewhat better while yielding three runs in 4 2/3 innings during a 6-1 loss to the Milwaukee Brewers on Sunday.
Woodford is 1-1 with a 5.73 ERA in seven career appearances against the Pirates, all in relief
Pirates outfielder Bryan Reynolds is expected back in the starting lineup on Friday after being limited to a pinch-hitting role on Thursday. Reynolds is batting .340 this season with five homers and 14 RBIs
"I think you see all the veterans get nights off as we go," Shelton said. "We're in a stretch of 17 (games in 17 days), and then we're also getting into a stretch where we get into Colorado, which is definitely different altitude, then we come back through two time zones."
Cardinals rookie Jordan Walker started the first 13 games of the season, but Marmol said he was leaning toward resting the outfielder on Friday after Walker's 12-game hitting streak ended on Thursday
"He's taken a quality at-bat almost every time and he hasn't given away at-bats," Marmol said. "He's doing it off fastballs and he's doing it off spin. It's been really good and it's legit. He's using the whole field and he's stayed through the middle of the field on the breaking ball. He's not just some one-trick pony doing it with power. He's been really good."
--Field Level Media