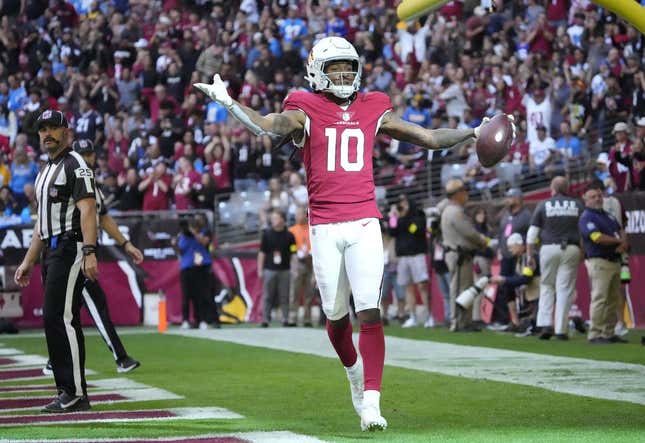 DeAndre Hopkins skipped the start of voluntary OTAs with the Arizona Cardinals but he cautioned not to read too much into the decision
How running an NFL team is like running a restaurant | Chef Emeril Lagasse
The future of the Cardinals No. 1 wide receiver has been the subject of much debate since the end of the 2022 season. But Hopkins, appearing on the "I AM ATHLETE" podcast with Brandon Marshall, said he's in Toronto to work out because he's at the stage of his career that "(a player) knows your body the best, and what is going to benefit you.
"Phoenix is home," Hopkins said. "It's where I have been the last three years. Working out there -- there's no emphasis other than that's where I live. It's not me going on a campaign. It's just me working out."
General manager Monti Ossenfort was hired in January and said following the 2023 NFL Draft he didn't "foresee" a trade happening when discussing Hopkins' role with the team.
Hopkins said he believes the Cardinals can offer what he wants at this stage in his career -- a stable GM, along with a quarterback who "lives the game and loves the game and a great defense.
"This is Monti's first year as a GM, but from what I understand and talking to Monti, I think Arizona is in good hands. (Defense) is good. We have Budda Baker, Isaiah Simmons. Kyler is a quarterback who loves the game but he's injured. Right now, I'm playing with Colt McCoy, who I love. But who knows. Right now I don't currently have a Pro Bowl quarterback or a quarterback who I would say..."
Hopkins drifted away from the QB chatter other than to say the team seems to be high on rookie quarterback Clayton Tune.
Hopkins, 30, has two years and $34.36 million in base pay left on his contract.
A three-time All-Pro, Hopkins has 221 receptions for 2,696 yards and 17 touchdowns in his three seasons in Arizona.
--Field Level Media