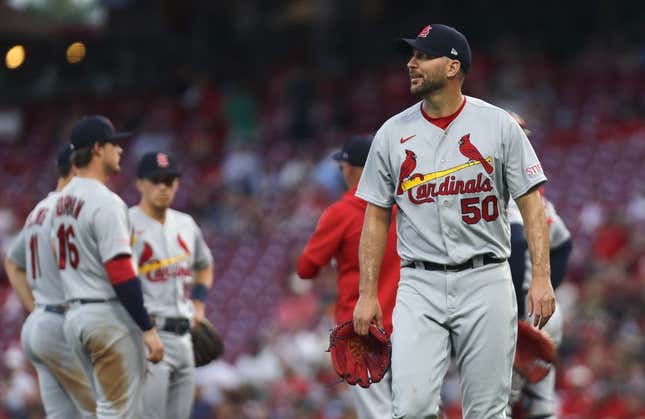 St. Louis Cardinals right-hander Adam Wainwright is in uncharted territory, and he's eager to find more familiar footing
How running an NFL team is like running a restaurant | Chef Emeril Lagasse
Through five starts this season, Wainwright (2-1, 6.15 ERA) has yet to complete six innings, and his ERA is nearly double his career mark of 3.41.
The St. Louis mainstay, who has finished in the top three in Cy Young Award voting four times, is seeking to put the struggles of May behind him in Monday's series opener against the Texas Rangers in Arlington, Texas
"I'm in one of those funks right now where balls put in play are hits," Wainwright said after allowing three earned runs on nine hits in five innings of a 7-0 loss to the visiting Kansas City Royals on May 29.
"Baseball is a crazy game like that. It goes in stages, and you have to keep executing, making pitches, and usually it will turn around," he said.
Wainwright took the loss in his only appearance against the Rangers, when he gave up just one run in 6 2/3 innings in June 2013
This year's Rangers are one of the hottest-hitting lineups in the majors. Texas is the only team in the major leagues averaging more than six runs per game (6.48), and ranks first in the league with its .345 on-base percentage
The Rangers completed a three-game sweep of the visiting Seattle Mariners with a second consecutive rout. The 12-3 victory came after a 16-6 blowout on Saturday, with a combined 34 hits
Corey Seager led the onslaught, going 7-for-12 with a homer, three doubles and six RBIs. Jonah Heim homered and drove in five runs on Sunday, and Marcus Semien homered and doubled twice while going 4-for-6 on Saturday. He scored four runs and drove in three.
Leaders of the American League West, the Rangers led their previous two series 2-0, only to fail to complete the sweep. Not this time
"It was good to finish it off this time. We were close the last two series, and (Seattle) is a good team with great pitching. They were in the playoffs last year, so for us to come out and do this and take the series here (is great)," manager Bruce Bochy said.
After splitting a two-game series against the visiting Kansas City Royals earlier in the week, St. Louis went to Pittsburgh and came out on the wrong end of a three-game sweep. The losses were by a combined four runs.
Monday's contest will be the club's 11th road game since May 22.
The Cardinals will be facing Texas left-hander Martin Perez (6-1, 4.43). He is making his first home start since May 19, when he delivered seven innings in a 7-2 win over Colorado, allowing two earned runs with no walks and seven strikeouts
His numbers weren't as good in his last start, when he didn't get out of the fifth inning against the host Detroit Tigers. He gave up six runs on seven hits and four walks, but the Rangers won the game 10-6
"I know it was not a good game for me, but as a team we won the game," Perez said afterward. "I'm OK with that. I'm not a selfish guy. I'm just going to continue to move forward ... and be ready for my next outing."
Perez has made two starts against the Cardinals, in 2013 and 2016. He is 1-0 with a 4.38 ERA 12 1/3 innings
--Field Level Media