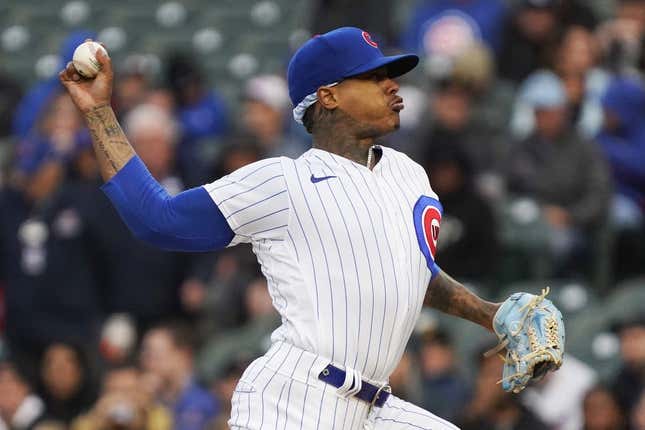 The St. Louis Cardinals are not playing like a club that reportedly could be a seller at the upcoming trade deadline
How running an NFL team is like running a restaurant | Chef Emeril Lagasse
Meanwhile, Marcus Stroman might be making one of his final few starts for the Chicago Cubs
Riding a season-high five-game winning streak, the visiting Cardinals look to again get the best of Stroman during series opener against the rival Cubs on Thursday night
One of the major leagues' biggest disappointments, St. Louis entered the All-Star break 38-52. Earlier this week, president of baseball operations John Mozeliak hinted the club could deal veteran players for prospects by the Aug. 1 deadline.
However, after losing 7-5 in 10 innings against the Washington Nationals on Friday, the Cardinals have totaled 34 runs and batted .330 while winning five straight, highlighted by this week's home sweep of the Miami Marlins
Though St. Louis is 10 games behind the first-place Milwaukee Brewers in the National League Central, the Cardinals are winners of seven of their past eight
"This is what we expected from the start," St. Louis second baseman Nolan Gorman said. "Obviously it didn't go that way, but it's good to see it come together."
Gorman and teammate Nolan Arenado are a combined 17-for-36 (.472) with four home runs and 19 RBIs in the last five games. However, Arenado is 3-for-16 versus Chicago in 2023, but Gorman is 4-for-11 with a homer against the Cubs this season
One of those Gorman hits came against Stroman (10-6, 2.88 ERA) during St. Louis' 7-5 win in London on June 25. The right-hander allowed six runs, three earned, and eight hits before leaving with a blister after 3 1/3 innings.
That outing began a three-start stretch in which Stroman went 0-2 with a 7.71 ERA. However, he regained his All-Star form while allowing a run and three hits over six innings during a 10-4 win against the Boston Red Sox on Saturday.
The performance further heightened Stroman's potential trade value. In his second season with Chicago, Stroman doesn't expect the Cubs to extend his contract by the trade deadline
Though Chicago totaled 25 runs to win two straight over Washington this week and claim a first victorious home series since June 16-18, the Cubs are five games under .500, 2 1/2 ahead of the Cardinals, and could also soon be sellers
"I love the city and the fan base," Stroman said. "Whatever happens, happens. If I have to go somewhere else for two months to pitch, so be it.
"I'm in a good space mentally."
Ex-Cub Willson Contreras is 4-for-5 against Stroman this season.
The Cardinals will send Steven Matz (0-7, 4.86 ERA) to mound on Thursday in his third start since returning to the rotation on July 9
In that outing against the Chicago White Sox, Matz allowed an unearned run and two hits, striking out nine and walking none over 5 1/3 innings. However, the left-hander followed by yielding four runs, four hits and three walks over 4 1/3 innings vs. the Nationals on Saturday.
Matz pitched 3 1/3 scoreless relief innings against the Cubs on June 24, but last faced them as a starter in 2018. In four career games (three starts) vs. Chicago, he is 0-2 with a 3.92 ERA
Chicago's Cody Bellinger, another possible trade piece, is 2-for-7 with a homer and three walks versus Matz. Bellinger is batting .436 (34-for-78) over his past 21 games.
Out since July 5 with a bruised left heel, Chicago All-Star Dansby Swanson could return for the St. Louis series. He is 9-for-20 (.450) with two homers and nine RBIs vs. the Cardinals in 2023
--Field Level Media