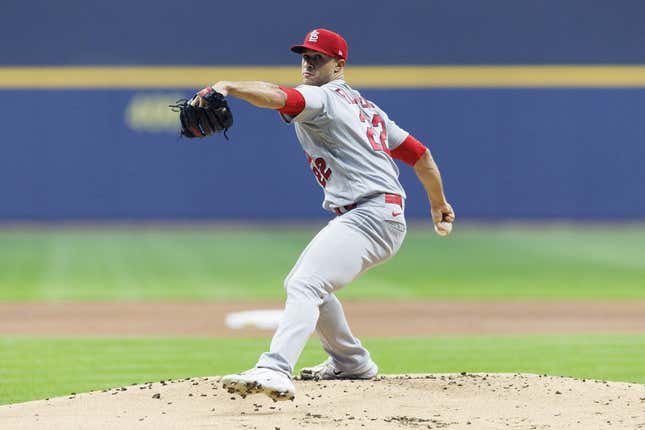 The Colorado Rockies have struggled against the St. Louis Cardinals on the road, but facing them in Denver has been a different story
Does Jimmy Butler have the best NBA Finals origin story? | Agree to Disagree
Colorado is 42-73 all-time in St. Louis and 62-54 vs. the Cardinals at home, though the Rockies missed a chance to better the home mark on Tuesday when the visitors rallied for a 9-6 win
The Rockies will try to take the three-game series when the teams meet in the rubber game on Wednesday afternoon
Colorado will send Jose Urena (0-2, 14.40 ERA) to the mound against St. Louis' Jack Flaherty (1-1, 1.80) in a matchup of right-handers.
The Rockies are wrapping up a seven-game homestand, their first of the season after opening at San Diego and the Los Angeles Dodgers
Colorado brings a 3-3 home mark into the Wednesday game, when Urena will try to bounce back from two poor starts to begin the season. He has allowed a combined 10 runs (eight earned) in five innings during starts against the Padres and the Washington Nationals.
He is 2-1 with a 7.66 ERA in five appearances (four starts) in his career against the Cardinals
Urena will have a few youngsters in the lineup around him as Colorado continues to look toward the future. One of the bright young stars is 21-year-old Ezequiel Tovar, who has showed a lot of promise but has started slowly. He is hitting .225 through the season's first two weeks.
"Take the positive, but take the negatives and learn from them," Tovar said through an interpreter. "Everybody wants to start out hot, start off right. But it's a game of adjustments. Just continue to work, knowing that the work is going to stand out."
St. Louis has its own young star in 20-year-old Jordan Walker, who has hit safely in 11 straight games to begin the season. The only player 20 or younger to have a longer hitting streak to begin the season is Eddie Murphy, who had a 12-game streak in 1912 for the Philadelphia Athletics.
Flaherty has a good record and ERA but has experienced some stumbles in his first two starts. He didn't allow a hit over five innings against the Toronto Blue Jays on April 1 but walked seven.
In Milwaukee six nights later, he allowed just two runs in five innings but walked six.
So far this year he has given up just four hits but has walked 13 in 10 innings.
"Getting frustrated is not going to do anything for anybody, and that's something that I've had to learn and figure out," Flaherty said. "Getting frustrated and showing emotion is not going do anything for me or the team, but it's going do something for the hitter."
He will need to limit the free passes in the Wednesday outing or it could be a long afternoon. The thin air in Colorado is notorious for punishing pitchers with control issues.
Flaherty will find out in his first-ever start at Coors Field. In four career starts against the Rockies, he is 2-1 with a 1.96 ERA
He hasn't faced Colorado since tossing seven scoreless innings against the Rockies on May 7, 2021, in St. Louis
--Field Level Media