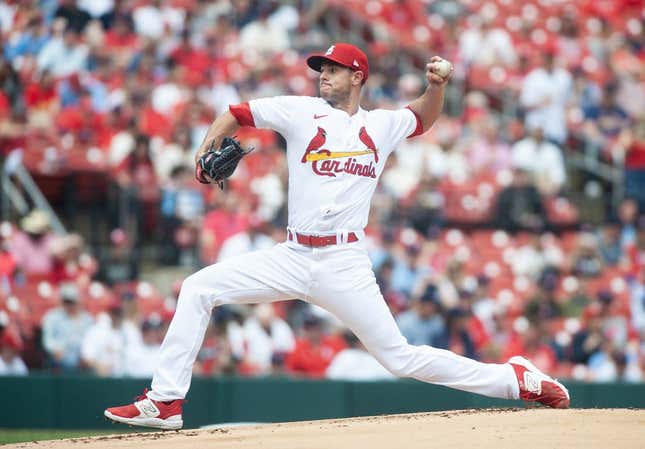 After capping their 10-19 April with a 2-8 West Coast trip, the Cardinals will try to regroup this week during their six-game homestand
Bass' ERA stinks, but not compared to who he is off the mound | Worst of the Week Countdown
They hope that process will begin Tuesday when they open a three-game series against the Los Angeles Angels at Busch Stadium
The Cardinals entered May in the National League Central cellar, 10 games out of first place. That represented their worst start since the 1907 season
"We didn't play well. That's basically it," Cardinals manager Oliver Marmol said. "There's enough talking in circles about it. We need to play better and we need to win. That's the bottom line. I could give you three to five different things but at the end of the day we need to put more in the win column. That's it.
St. Louis suffered just about every imaginable breakdown on its last road trip, including lost production from key hitters. Third baseman and usual cleanup hitter Nolan Arenado drove in just one run and had no extra-base hits.
"It's hard to speak on what we need to do when I feel like I'm not playing my part the way I should," Arenado told the St. Louis Post-Dispatch. "A lot of that falls on me. I've just been poor and have been really poor thus far. I think it's just a mixture of things. Like when things are going bad, every little mistake we make -- it haunts us. And we're playing not to make a mistake, instead of playing freely."
The Cardinals threw 15 wild pitches last month and committed 14 errors in the last 20 games
On Tuesday the Cardinals will start left-hander Steven Matz (0-3, 6.23 ERA), who lasted just four innings in his last start, a 7-3 loss at San Francisco. He allowed two runs on six hits and three walks in his shortest outing of the season
Matz will be making his first career start against the Angels, who came to St. Louis after losing two of three games to the Brewers over the weekend at Milwaukee
Los Angeles will turn to left-hander Patrick Sandoval (2-1, 3.16), who will make his first career appearance against St. Louis. In his last start Sandoval allowed three runs (two earned) on six hits in seven innings in an 11-3 victory over the Oakland A's.
He struck out five and didn't issue a walk in his longest outing of the season. That was a nice rebound from his previous start, when he allowed five runs on four hits and six walks in a loss to the New York Yankees.
Shohei Ohtani paced the Angels' offense in April with 18 RBIs and seven homers, including a sky-high, 413-foot blast Sunday
"I kept waiting for it to hit somewhere up on the scoreboard," manager Phil Nevin said. "I haven't seen many like that. He's special, and we see something new each day with him."
An early Angels concern is relief pitching. Left-hander Jose Quijada (elbow) went on the injured list over the weekend and Los Angeles suffered seven blown saves in 18 opportunities in April
But Carlos Estevez closed out the last two innings Sunday to earn his sixth save in six tries.
--Field Level Media