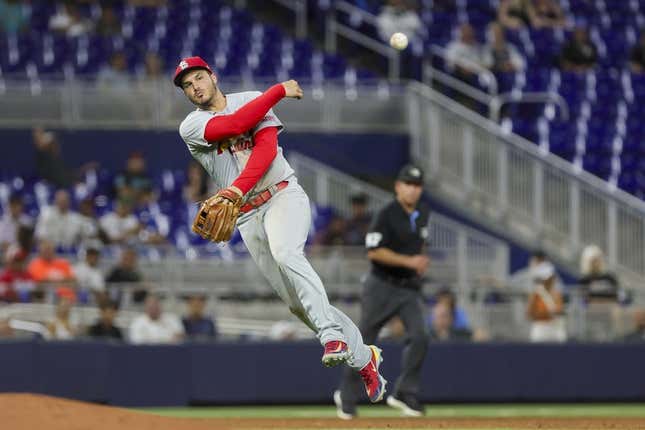 The St. Louis Cardinals are coming out of the All-Star break 14 games below .500, so the organizational focus has shifted to next season
How running an NFL team is like running a restaurant | Chef Emeril Lagasse
That reality will hang over the club as its resumes play with a three-game home series against the Washington Nationals on Friday
"Right now, I can tell you that we're going to trade people," Cardinals president of baseball operations John Mozeliak told Fox2 News in St. Louis. "I just don't know if it's going to be household names or more of guys that just aren't likely going to be here next year. It's easy to talk about what we may or may not do at the moment, but we're not going to just give away players
"We want to get some value in return. We want to get some return that's going to help us for 2024, and that's going to be really our focus as we enter the trading period."
The Cardinals went into the break by winning two of three road games against the Chicago White Sox. Prior to that, they lost six of eight games to seal their fate a trade deadline seller
"If there's anything I can really pinpoint, I feel like where we need some serious work is our defense, and that starts with me," Cardinals third baseman Nolan Arenado told the St. Louis Post-Dispatch. "Just playing better defensively and we need good outings from starters. But, at the end of the day, we need to play better defense.
Arenado hit 14 homers across May and June, then posted a 1.239 OPS in his first nine games in July to pace the Cardinals' offense. Willson Contreras is 12-for-22 in his last seven games with four walks, four doubles, two homers and five RBIs
Last month the Cardinals won two of three games from the Nationals when they met in Washington, D.C
Brendan Donovan (5-for-12, homer, three RBIs), Dylan Carlson (3-for-8, two homers, three RBIs) and Contreras (4-for-13, two doubles, three RBIs) had big offensive series for St. Louis, while CJ Abrams (6-for-9, double, homer, three runs) starred for Washington.
The rebuilding Nationals come into this series after winning back-to-back games against the Texas Rangers before the break. They have won four of their last five series while trying to build a foundation for the future
"These guys are all learning and getting better," Nationals manager Dave Martinez said. "It's a grind
"When they make mistakes, we try to get them to understand what happened and what went wrong: 'This is what we see; this is what you need to do.' They don't like losing. They want to win, and they play hard for 27 outs. That's something that is really hard to teach."
One area of concern has been Washington's inability to control the running game. Catcher Keibert Ruiz has thrown out just 14 percent of runners attempting to steal this season -- including just 6 percent of runners trying to steal second base.
"He's got a quick release," Martinez told the Washington Post. "Our pitchers tend not to be even quicker, and that gets him in trouble."
On Friday, the Cardinals will send right-handed pitcher Miles Mikolas (5-5, 4.23 ERA) to the bump opposite Washington right-hander Trevor Williams (5-5, 4.45)
Mikolas has made seven appearances (six starts) in his career against the Nationals and is 3-3 with a 4.05 ERA against them. Williams, a former Pittsburgh Pirate, Chicago Cub and New York Met, has faced the Cardinals 21 times with 16 starts, most of any opponent in his career; he is 5-6 with a 4.98 ERA against St. Louis
--Field Level Media