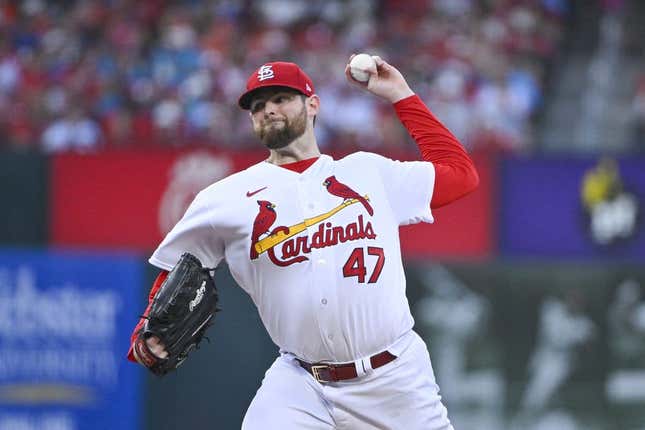 St. Louis Cardinals pitcher Jordan Montgomery finally got a good feel for his changeup in his last start
Is Texas or Florida State a bigger national title contender? | Agree to Disagree
He earned his first victory in two months with six scoreless innings against the Cincinnati Reds on Friday. Montgomery (3-7, 3.88 ERA) will now try to carry that success in Wednesday's home start against the San Francisco Giants at Busch Stadium
"Montgomery has a plus changeup," Cardinals catcher Willson Contreras told the St. Louis Post-Dispatch. "And it's not easy to read out of his hand. And when you have a heavy fastball and you can manage it effectively at 90 (mph), 91, 93, 95 -- that makes it a lot more difficult.
The Cardinals had lost 10 consecutive games Montgomery had started before beating the Reds 7-4. Some of that was due to poor run support -- including three shutout losses, like the 4-0 defeat to the Giants on April 24 in San Francisco
That was Montgomery's only previous game against the Giants. The left-hander allowed one unearned run on five hits in six innings while striking out six and walking one
"He's done a really nice job of giving us a shot for a W often," Cardinals manager Oliver Marmol said. "And we haven't been able to reward him for that with some run support. The guy has given us a shot plenty of times. We just haven't come through for him.
But some of the failure was Montgomery's inability to use his changeup to set up his fastball-sinker combination.
"It looks like say a slower fastball, but a way slower fastball," Contreras said. "It looks like a fastball for sure, like a four-seam changeup. When it's not good, it looks more like a faded changeup. You can see it out of the hand."
The Giants won the first two games of this three-game series, 4-3 and 11-3. But they lost infielder J.D. Davis (sprained right ankle) and outfielder Mitch Haniger (broken right forearm) Tuesday
David Villar and Luis Matos could be the replacements; both left early from Triple-A Sacramento's game Tuesday.
San Francisco will start right-hander Anthony DeSclafani (4-6, 3.89), who is coming off a 3-2 loss to the Chicago Cubs on Friday. DeSclafani issued a season-high four walks in that game.
"I'm just trying to work on some mechanical stuff in between starts and kind of still felt a little out of whack," DeSclafani said. "Walks are not ideal. It's tough. I've got to stop walking so many guys; but, for the most part, I thought I did a fine job competing."
DeSclafani suffered an 8-3 loss to the Baltimore Orioles on June 4. He allowed six runs (five earned) on five hits and three walks in three innings.
He relied heavily on his slider in that game, so Giants catcher Patrick Bailey called more fastballs against the Cubs
"We were kind of going back and forth calling the game," DeSclafani said. "I think we all agreed that I needed to input the fastball more, and he helped do that. I thought it was a good usage of the heater and a good mix overall."
DeSclafani earned a 7-3 victory over the Cardinals on April 26. He allowed two runs on six hits in six innings. He struck out six batters and walked one
He is 8-5 with a 3.75 ERA in 19 career outings against the Cardinals, including 18 starts
--Field Level Media