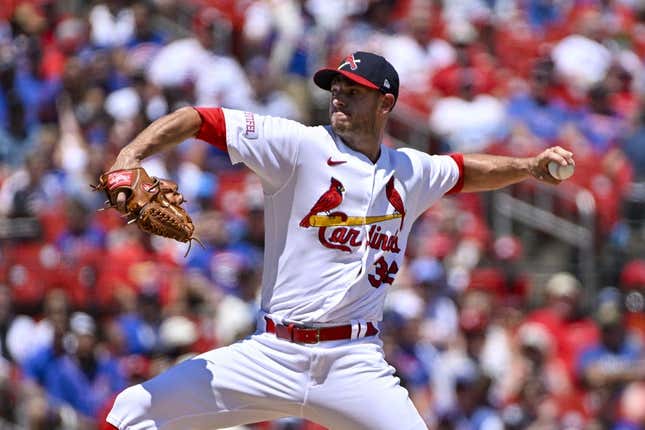 St. Louis Cardinals pitcher Steven Matz developed a more aggressive mindset during his midseason demotion to the bullpen
How running an NFL team is like running a restaurant | Chef Emeril Lagasse
Matz will try to build upon his newfound success as a starter when the Cardinals host the Colorado Rockies on Saturday in the middle contest of a three-game series
The Rockies recorded a 9-4 victory in the series opener on Friday night
Matz (2-7, 4.06 ERA) earned a 3-0 victory over the Chicago Cubs on Sunday in his most recent start. He allowed just four hits, struck out two and did not walk a batter in six innings
The left-hander has allowed just one run on 12 hits over 17 innings in his last three starts and picked up his only wins of the season. The Cardinals have won four of his five starts since he came out of the bullpen to rejoin the starting rotation
"I think I just kind of simplified things in the bullpen," Matz said. "I had a little bit of success out there and recognized I can go right after guys and you don't have to try to be too perfect every time. I saw the results, and I think I just kind of build off of that.
That success is critical for the Cardinals, since Matz and Miles Mikolas are the only established big-league starting pitchers the Cardinals have under contract for next season
"It's good to show I can contribute to this team and help them win for the next few years that I'm here," Matz said. "I think that's important for me. I think it's important now and in the future. I'm definitely going to continue to try to build off that to finish these last two months and keep getting better.
Matz has struggled against the Rockies in his career, going 1-6 with a 7.55 ERA in eight starts. Colorado defeated Matz on April 10 by scoring six runs on nine hits with two walks in 5 2/3 innings in a 7-4 victory
The Rockies will counter with left-hander Ty Blach (1-0, 4.22), who is trying to establish himself in the rotation in his second season since recovering from Tommy John surgery
In his second start of the season, Blach pitched five scoreless innings in Sunday's 2-0 victory over the Oakland Athletics. He allowed just three hits and a walk while striking out two batters
"Ty's a strike-thrower," Rockies manager Bud Black said after that game. "I mean, that was pitching at its finest.
Blach has gained more movement on his pitches, thanks to the work he did with his personal pitching coach after the Rockies designated him for assignment. Improved work at Triple-A Albuquerque earned him another shot at the big leagues this season
"We kind of tweaked arm slots just a little bit, just lowering it, trying to create just a little bit more sink and run on the ball," Blach said. "Things had gotten flat early on in the season. Being able to get the arm slot down a little bit allowed me to use the changeup a lot better.
Blach has not recorded a decision while allowing four runs on five hits in 1 2/3 innings in his two career appearances against the Cardinals
Cardinals infielder Nolan Gorman went 3-for-5 with two RBIs and two runs on Friday, encouraging after battling lower-back stiffness this week
--Field Level Medi