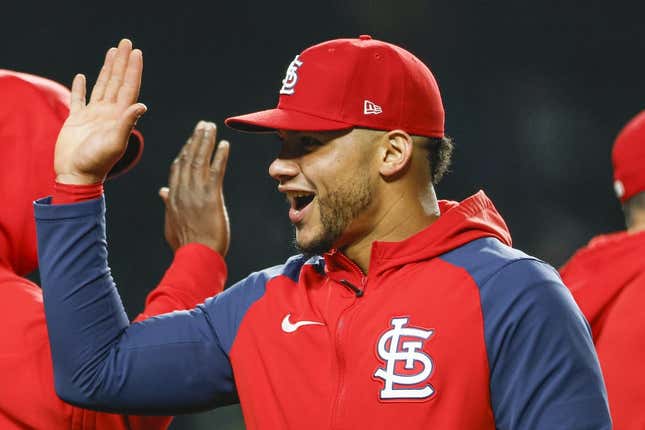 Willson Contreras will make his catching comeback when the St. Louis Cardinals open a three-game series against the visiting Milwaukee Brewers on Monday night
Aaron Rodgers should go full Joe Namath | Comedian Bert Kreischer
St. Louis manager Oliver Marmol promoted Andrew Knizner to starting catcher and relegated Contreras to designated hitter after the Cardinals suffered an 11-7 loss to the Los Angeles Angels on May 4
But Marmol will have Contreras catch Jack Flaherty (2-4, 6.18 ERA) against the Brewers at Busch Stadium. The Cardinals have won six of their last seven after a 10-24 start, while the Brewers are coming off a three-game home sweep of the Kansas City Royals
Since his demotion, Contreras has worked with the pitching staff on game planning and pitch calling.
"We have felt really good about the progress that we've made, and it lines up really well for him to catch on Monday with Jack on the mound," Marmol said. "This is what they wanted. They both wanted it, and Willson wanted to be behind the plate on Monday. And we felt really good about lining it up that way."
Contreras signed a five-year, $87.5 million free-agent contract with the Cardinals. He skipped the World Baseball Classic to familiarize himself with his new team
"The way I would describe it is truly understanding our system of executing the game plan with each individual pitcher," Marmol said. "The reality is, it's more than he's ever had to do. Nothing against the way he has done it. It's just, it's very different and it's a lot of work."
The situation came to a head when Flaherty allowed 10 runs in 2 1/3 innings in that 11-7 loss to the Angels.
"I had a lot of starts with (Contreras) -- some good and some bad," Flaherty told MLB.com. "And if they were bad, it was on me not executing pitches. It's been fun watching him work, talking to him on the bench and hanging out with him while he's been DHing."
Flaherty is 3-7 with a 4.92 ERA in 17 career games against the Brewers, including 16 starts. Christian Yelich has a career .905 OPS against Flaherty -- and overall he has a .348/.400/.630 slash line in his last 12 games and three homers in the last two
The Brewers started the month 2-7 before sweeping the Royals
"It's nice, and it's what we're used to doing," Brewers pitcher Eric Lauer told MLB.com. "It's what we should be doing. We played a lot of really good team baseball this whole series and hopefully it just launches us forward.
Freddy Peralta (4-2, 3.32 ERA) will draw Monday's start for the Brewers. He brings a string of three straight quality starts into this game, including his 9-3 victory over the Los Angeles Dodgers in his last start
"I've been able to make pitches in situations that I have to do it," Peralta said after that victory. "When I have runners in scoring positions, I've been able to make adjustments. It's working right now."
On April 9, Peralta earned a 6-1 victory over the Cardinals while holding them to one run on four hits in six innings. He is 3-4 with a 5.94 ERA in 13 career appearances against them, including nine starts
Cardinals outfielder Dylan Carlson is questionable for the series opener after spraining his ankle Sunday night in Boston
--Field Level Media