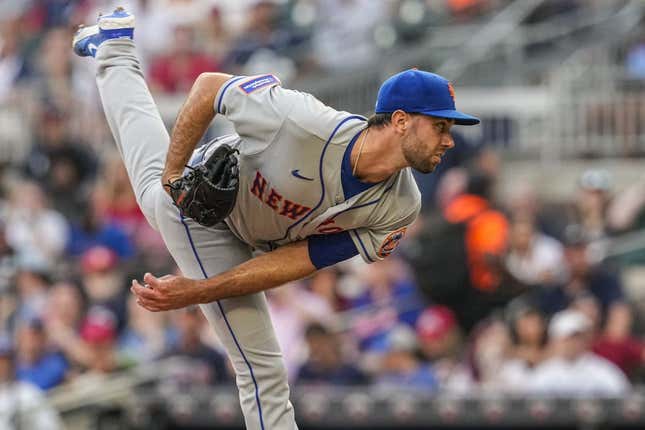 Despite having a potential 12-year, $315 million deal with the Mets unravel last winter because of concerns over his physical, Minnesota shortstop Carlos Correa maintains he wasn't looking forward to this weekend's series against New York all year.
How running an NFL team is like running a restaurant | Chef Emeril Lagasse
"I just saw we were playing the Mets the other day when we were playing in Cleveland, and I checked the calendar to see who we were playing at home and it was the Mets and the Rays," Correa said. "So, obviously you think about the offseason right away, but it's not like I look at the calendar and mark this day like it was a special day or anything. It's just another game."
Correa, who eventually signed a six-year, $200 million deal with Minnesota on Jan. 10, homered and doubled to lead the American League Central-leading Twins to a 5-2 victory over the Mets on Friday in the series opener at Minneapolis.
Minnesota (74-67), which maintained a 6 1/2-game lead in the Central over the Cleveland Guardians (68-74), will try to clinch the three-game series Saturday afternoon when veteran right-hander Kenta Maeda (3-7, 4.73 ERA) takes the mound against New York left-hander David Peterson (3-7, 5.40).
Maeda is 1-2 with a 5.25 ERA in four career appearances (two starts) against the Mets but hasn't faced them since 2019, when he was with the Los Angeles Dodgers.
Peterson, meanwhile, has never faced the Twins. To even the series, he will have to find a way to cool down Correa, who belted a 439-foot homer off Kodai Senga during the fourth inning on Friday. The ball had an exit an exit velocity of 114.2 mph, the hardest of his nine-year career.
"I don't look back at all," Correa said. "I'm a guy who moves on pretty quickly. (The deal with the Mets) didn't come to fruition and I moved on. Now I'm here with the Minnesota Twins. We're in a good spot, so I'm really happy with the way this is going so far."
Correa, who has 18 home runs and leads the team with 63 RBIs, and rookie third baseman Royce Lewis have helped carry the team since the All-Star break, when Minnesota was a half-game behind Cleveland.
Lewis, who hit three grand slams over a recent eight-game span, has 26 RBIs over the past 21 games. On Friday, he came through with two doubles, each driving in a run.
"Royce's at-bats all game, those were pretty amazing," Minnesota manager Rocco Baldelli said. "He's hitting the ball consistently hard, and that's the name of the game."
Correa said of Lewis, "He's a special talent. He's a superstar in the making, and we are seeing it unfold right in front of our eyes. It's fun to watch."
New York (64-76) managed just four hits in the series opener. Francisco Lindor briefly put the Mets in front 2-1 in the fourth with a two-run, ground-rule double off Minnesota starter Dallas Keuchel, but Correa tied it in the bottom half of the inning with his laser shot into the second deck in left-center.
Senga allowed two runs on four hits over six innings and struck out five but struggled with his command, walking four.
"A lot of guys would not have got through six innings, so I was proud of him," New York manager Buck Showalter said. "A lot of times, these types of outings, where you're not carrying the normal command of your pitches, are more impressive."
—Field Level Media