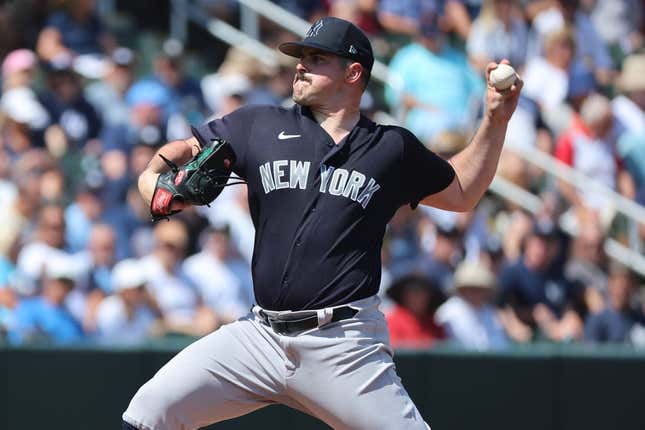 Carlos Rodon continues to struggle with a back ailment, and the New York Yankees left-hander is due to receive an injection next week in as he tries to recover
Air Jordans are more American than McDonald's French fries | Deon Cole's Ultimate Sports Fantasy
After signing a six-year, $162 million free agent contract with the Yankees in December, Rodon was shut down following just one spring training start because of a strained left forearm muscle. He was expected to be back during the season's first month
While he recovered from that injury, his back started hurting after he resumed throwing to hitters in April.
The latest setback could push the timetable for his season debut back to June or July.
Asked when he might start for the Yankees, Rodon said on Friday in St. Petersburg, Fla., "I have no idea. I don't put a timeline on anything. I'll get this injection and I want to throw as soon as I can
"Whenever my body tells me I can throw and everyone agrees that I can throw, I'll start throwing whatever and whenever that ramp-up takes ... I can't set a date for you. I would have thought I've been pitching here for the club now."
Rodon added, "It really sucks. I want to be pitching for the New York Yankees. I want to be pitching in this series (against the Tampa Bay Rays) and with the boys. I want to be competing. It's hard to sit here and not be doing it and talking to (the media).
Rodon was an All-Star each of the past two seasons, for the Chicago White Sox in 2021 and for the San Francisco Giants in 2022. Last year, he led the majors with a rate of 12.0 strikeouts per nine innings, as he fanned 237 in 178 innings.
In his lone season with the Giants, Rodon went 14-8 with a 2.88 ERA in 31 starts. Over eight major league seasons (the first seven with the White Sox), Rodon owns a 56-46 record and a 3.60 ERA in 152 games (147 starts).
--Field Level Media