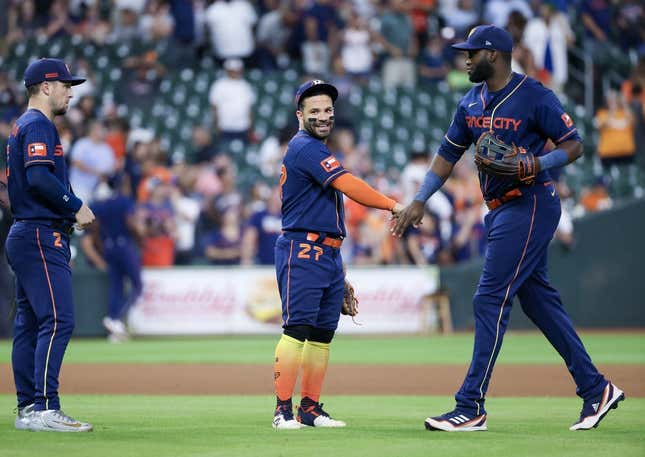 Houston manager Dusty Baker is attempting to dampen enthusiasm over the recent returns of Jose Altuve and Yordan Alvarez, both of whom made significant impacts in the Astros' 7-3 victory over the visiting Cleveland Guardians on Monday
How running an NFL team is like running a restaurant | Chef Emeril Lagasse
The teams continue their three-game series on Tuesday
Alvarez socked a three-run home run in the sixth inning that flipped a one-run deficit into a 4-2 Houston lead. It was his second homer in five games since returning from a 39-game absence caused by right oblique discomfort
Altuve finished 1-for-2 with three walks, two stolen bases and two runs. He went 3-for-4 on Sunday against the Tampa Bay Rays and has a triple and a home run in five games since his return from a 17-game absence stemming from a left oblique strain
The Astros have carefully monitored both over the past week, mindful of their recent injuries and hopeful that those maladies are behind them for good as the close stretch approaches
"(Altuve's) letting it go and not guarding it," Baker said. "The last couple of games he's looked like Altuve
"Yordan, it's going to take him a little while to get back into the swing of things, but he swung at the right time for us. But we've still got to watch him, still got to keep an eye on him because it's still spring training mode for him and Altuve. As much as we want to rush them, we've got to have them for these next two months and hopefully the next three months.
Left-hander Framber Valdez (8-7, 3.29 ERA) is scheduled to start for the Astros on Tuesday. He worked a season-low 3 2/3 innings against the Texas Rangers on Wednesday, allowing six runs on eight hits and two walks with just one strikeout in a 13-5 loss. Valdez has struggled lately, going 1-2 with a 7.00 ERA over his past five starts
Valdez is 4-0 with a 3.22 ERA over four career appearances (three starts) against the Guardians. In his most recent start against Cleveland, Valdez allowed three runs on seven hits and three walks with three strikeouts over 6 1/3 innings in a 9-3 road victory on Aug. 5, 2022
Rookie right-hander Gavin Williams (1-2, 3.35 ERA) has the starting assignment for the Guardians on Tuesday. Although he is winless over his past three starts, Williams pitched to a 2.08 ERA in that span
The Guardians have won both of his past two starts as Williams allowed a total of one run on eight hits and six walks with eight strikeouts over eight innings in that span
Williams will start against the Astros for the first time in his brief career
Veteran right-hander Noah Syndergaard made his Guardians debut on Monday and pitched effectively before departing with one out in the sixth inning after taking a line drive off his right leg. He allowed one run on two hits and two walks over 5 1/3 innings in his first start since June 7 with the Los Angeles Dodgers, who traded Syndergaard to Cleveland on Wednesday for shortstop Amed Rosario
"It felt liberating and definitely -- I sound like a broken record -- a step in the right direction," said Syndergaard, who had been on the injured list due to a finger blister. "For not competing in a big-league game for two months, I felt efficient, my strike-throwing was really good
"I'm looking forward to getting back on the mound whenever that is and just working on my side work to help crisp up that off-speed stuff.
--Field Level Medi