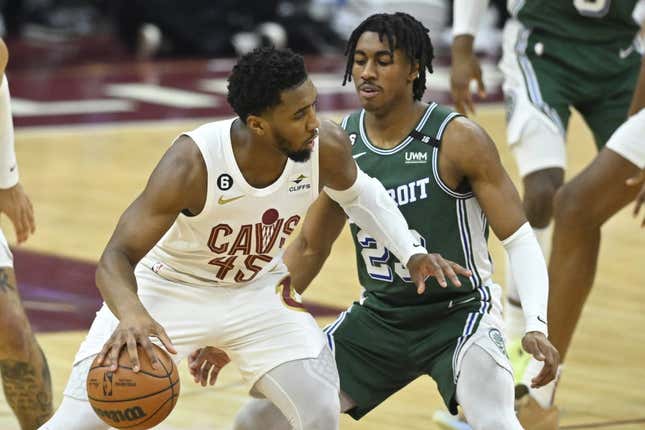 Darius Garland collected 21 points and seven assists and Donovan Mitchell added 20 points to fuel the host Cleveland Cavaliers to a 114-90 victory over the Detroit Pistons on Saturday.
How running an NFL team is like running a restaurant | Chef Emeril Lagasse
Garland made 8 of 11 shots from the floor -- including 5 of 6 from 3-point range -- to help the Cavaliers complete a four-game season sweep of the Pistons.
Cleveland's Evan Mobley recorded 16 points, 11 rebounds, six assists and four blocks, and Jarrett Allen scored 15 points while joining Mitchell in playing their 400th career games.
Caris LeVert added 11 points off the bench for the Cavaliers, who outscored Detroit 42-22 in the third quarter en route to posting just their second win in their last six games overall.
Cleveland shot 49.5 percent from the floor (45 of 91) and 41.2 percent from 3-point range (14 of 34) to offset a 55.6 percent performance from the free-throw line (10 of 18).
Marvin Bagley III collected 20 points and 13 rebounds and Hamidou Diallo added 14 points for the Pistons, who committed 23 turnovers en route to tying a season high with their seventh loss in a row. They also dropped seven straight games from Nov. 9-20.
Detroit played without leading scorer Bojan Bogdanovic (bilateral Achilles tendinopathy). Bogdanovic is averaging 21.6 points per game this season.
Garland sank a pair of 3-pointers to highlight Cleveland's strong surge to start the third quarter. Mobley made a pair of buckets as part of a 9-0 run, and LeVert sank a pair of 3-pointers to push the Cavaliers' lead to 94-63 lead with 1:35 remaining in the quarter.
Cleveland's lead ballooned to 105-70 after Mobley, Ricky Rubio and Danny Green each scored three points to begin the fourth quarter. The Cavaliers were not seriously threatened the rest of the way.
Mitchell scored 15 points and Garland added 11 while working around four fouls to stake Cleveland to a 54-45 lead at halftime. Garland sank 3 of 4 attempts from 3-point range to keep the Pistons at bay.
--Field Level Media