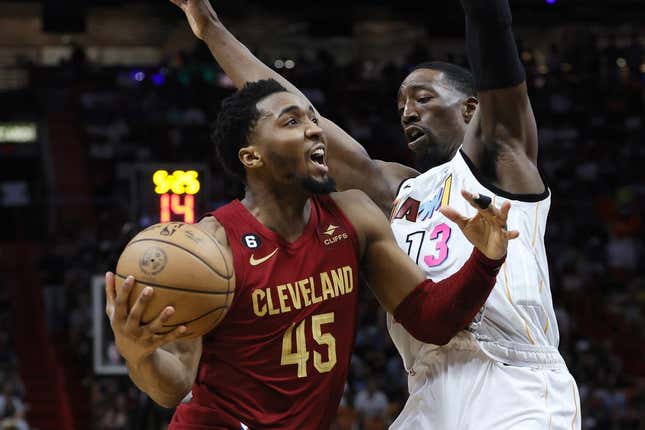 The surging Cleveland Cavaliers will look for a two-game sweep of the host Miami Heat when the teams meet Friday for the second time in three nights.
How running an NFL team is like running a restaurant | Chef Emeril Lagasse
On Wednesday, all five Cleveland starters scored in double-figures and the Cavaliers held off a late Miami rally in a 104-100 win in South Florida.
After 18 lead changes in the first half, Cleveland jumped to an early third-quarter lead, taking a 12-point lead before Miami came back in the fourth. Miami closed to within one with 2:44 to play but was never able to overtake the visitors.
"The grit and the resilience that we showed," Cleveland coach J.B. Bickerstaff said. "It was an ugly fourth quarter for both teams. These are two really good defenses that put you in difficult situations, forced a ton of turnovers both ways, but I thought our guys did a great job of maintaining their poise."
Darius Garland scored 25 points and Donovan Mitchell added 18 to lead the Cavaliers, who have won 11 of 15 since the beginning of February.
If Miami is going to gain a split in the two-game series, they must take better care of the ball. The Heat committed a season-high 24 turnovers, leading to 29 Cleveland points.
"It is extremely tough to win in this league when you have 24 turnovers," Miami coach Erik Spoelstra said. "You have to credit them. The last six weeks, they've really turned up that disruptiveness."
Jimmy Butler led Miami with 28 points while Tyler Herro added 22 and big man Bam Adebayo chipped in with 17.
Cleveland's Jarrett Allen posted a double-double with 15 points and 12 boards, going 7 of 10 from the floor, with two assists, a steal and a block. Allen also dominated the boards on Wednesday, holding Adebayo to just one rebound.
The Cavaliers have won three straight and four of five to remain within striking distance of the Philadelphia 76ers for the No. 3 seed in the Eastern Conference.
"It's where we want to be. We want to be in tight competition, we want to be playing against the best -- finishing games the right way against the best," Allen said. "I think a game like (Wednesday) is a big step forward to where we want to be heading into the postseason."
Evan Mobley added 15 points, six rebounds, six assists and a pair of blocks.
Isaac Okoro scored 13 points, enjoying his best offensive night in over a month thanks to a 5 of 7 performance from the floor, including 3 of 4 from 3-point range.
Cleveland is playing the second of four straight on the road. The second half of its four-game road swing will also be a two-game set with one team, as they play Sunday and Tuesday in Charlotte.
The Heat are trying to hold off No. 8 Atlanta and catch the Brooklyn Nets for the sixth seed in the East, a spot that would qualify them automatically for the playoffs and avoid the play-in tournament round.
Miami is closing out a five-game homestand that began with a loss to the New York Knicks and continued with two wins over Atlanta before Wednesday's loss to Cleveland.
--Field Level Media