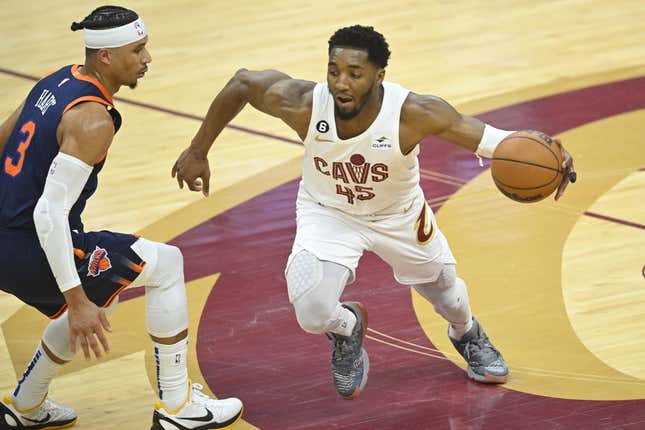 The New York Knicks' Josh Hart walked into his postgame press conference Saturday night wearing a Jalen Brunson T-shirt
Chris Paul should ride the bench next season | Keep it a Buck(et)
But maybe Brunson and the rest of the Knicks should have been sporting Hart T-shirts
Hart and the Knicks will look to increase their lead in an Eastern Conference first-round series Tuesday night when they visit the Cleveland Cavaliers in Game 2 of the best-of-seven set
Hart and Brunson each came up big in the fourth quarter Saturday night, when the Knicks squandered all of a 10-point lead before recovering to edge the host Cavaliers 101-97
The duo combined to score 16 of the Knicks' 23 fourth-quarter points and were especially effective over the final two minutes, when they scored the first seven points of the Knicks' game-ending 9-4 run
The Cavaliers scored nine unanswered points to take a 93-92 lead on Jarrett Allen's tip-in with 2:12 left. After a timeout, Hart sank a long 3-pointer and grabbed the rebound when Donovan Mitchell missed a potential go-ahead 3-pointer with 1:32 left
Brunson then hit a stepback jumper from the foul line to extend the Knicks' lead to 97-93. Mitchell drained a pair of free throws, after which Hart missed a long two-pointer before Brunson converted a floater
Allen dunked on the Cavaliers' next possession and New York iced the win when Julius Randle rebounded a missed shot by Brunson and Quentin Grimes sank two free throws with 4.3 seconds left
"When you're in adverse situations, you either crumble or you band together and come out on top," Hart said following the first playoff game of his six-year career. "We didn't get frustrated or rattled."
Brunson earned the T-shirt treatment by scoring 21 points in the second half after being limited to nine minutes because of foul trouble in the first half. But Hart's rare double-double off the bench -- he had 17 points and 10 rebounds in becoming the first Knicks reserve with a double-double in a playoff game since J.R. Smith had 15 points and 10 rebounds against the Indiana Pacers on May 18, 2013 -- set the tone for New York, whose bench outscored Cavaliers reserves 37-14
"We needed everyone," Knicks coach Tom Thibodeau said
The Cavaliers, who are in the playoffs without LeBron James on their roster for the first time since the spring of 1998, nearly pulled off the win while relying mostly on Mitchell and Allen. Mitchell played 43:38 while scoring 38 points and Allen had a double-double (14 points, 14 rebounds) in 43 minutes
But the complete nature of the Knicks' win and urgency with which New York played the final minutes served to remind the Cavaliers they'll likely need a more balanced effort to earn their first playoff series win since the final season of James' second tenure in the spring of 2018
"It's the playoffs -- you've got to do what's necessary," said Mitchell, who cut his arm while soaring into the stands chasing down a long rebound late in the first half. "Every possession matters."
The Cavaliers' Darius Garland (43 minutes) joined Mitchell and Allen in playing at least 40 minutes Saturday, when only three Knicks -- Hart along with Julius Randle and RJ Barrett -- played more than 30 minutes. Forward Cedi Osman led Cavaliers reserves with nine points
"Obviously, our bench has to give us a spark," Cavaliers coach J.B. Bickerstaff said. "We'll go back, we'll take a look at it. But at some point in time, you've got to find a way to just put the ball in the basket. And I thought that unit kind of struggled there.
--Field Level Media