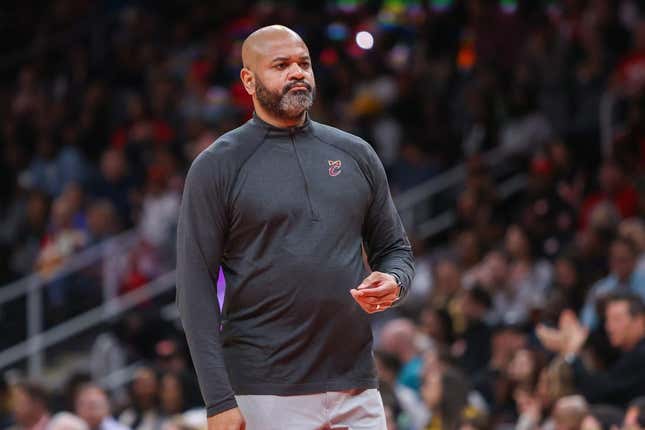 Coach J.B. Bickerstaff will return to the Cleveland Cavaliers next season, despite a disappointing first-round playoff loss to the New York Knicks
Bass' ERA stinks, but not compared to who he is off the mound | Worst of the Week Countdown
That's according to Koby Altman, president of basketball operations, who told Cleveland.com that there's no need to make a change on the bench.
"End that speculation. Yes. Absolutely. Absolutely. There's no question about that," Altman told the news provider when asked if Bickerstaff would be back amid calls from fans on Twitter to fire the coach. "Look at what he has accomplished. I have not heard that stuff. Maybe because I haven't been reading or been on Twitter. I have not heard that noise. That's not even a question."
Altman credited Bickerstaff, 44, as being the driving force behind a 51-31 regular season and the team's first playoff appearance in five years. Still, Cleveland was outplayed in the five-game series loss to the Knicks.
"J.B. has been through this rebuild from the ground up and he's done a phenomenal job instilling a culture here of accountability and hard work," Altman said. "You can't fluke your way into 51 wins, and you can't fluke your way into the No. 1 defensive rating in the NBA. That's coaching. I know we have great defensive personnel, but you have to have buy-in from that and that comes from the head coach.
"We're extremely happy with J.B. and the job he's done. I think he's going to look back and reflect on what we could have done better, just like the players look back at what they could have done better."
Bickerstaff has a 122-125 record in three-plus seasons with the Cavaliers, helping a team to improve that plummeted to a 19-63 mark in the 2018-19 season, triggered by the departure of LeBron James after four straight appearances in the NBA Finals
"We accomplished a lot this year and really put this franchise back on the map in terms of being able to compete at the highest level all year long," Altman said. "This is part of the journey. This is the pain and the agony that we felt the last couple days is part of it and we're going to get better for it. But it doesn't change how we feel about this group. I'm incredibly proud of our players, our coaching staff, the whole franchise of where we are and where we've come from. This is going to be part of a largely successful journey that we're just getting started with."
--Field Level Media