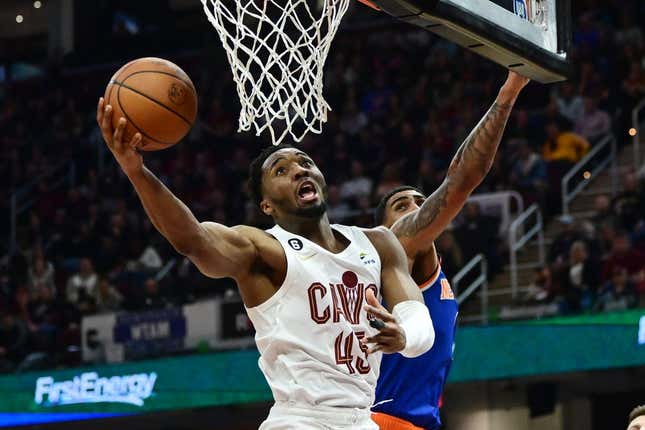 With a playoff berth already clinched, the Cleveland Cavaliers host the Indiana Pacers on Sunday to kick off the final week of the regular season
Aaron Rodgers should go full Joe Namath | Comedian Bert Kreischer
Last week, Cleveland (48-30) clinched its first berth in the playoffs without LeBron James since 1998. The Cavaliers appear locked into the No. 4 seed, trailing third-place Philadelphia by 3 1/2 games with just four dates remaining on Cleveland's regular-season docket
The Cavaliers also entered Saturday holding a three-game advantage over fifth-place New York, though the Knicks put a small dent into that gap on Friday with a 130-116 win in Cleveland
The defeat marked the Cavaliers' second straight after they won the previous four
"We'll revisit this when the time ends, but right now we can't sit here and let this hang over our head," Cavs guard Donovan Mitchell said following the loss.
Mitchell scored 42 points against the Knicks, his 11th outing of 40-plus points.
One such performance came against Indiana, when Mitchell knocked down eight 3-pointers -- matching his season high -- en route to 41 points on Dec. 16. The 118-112 Cavaliers win was their first of two against Indiana on the season, the second coming in a 122-103 decision on Feb. 5
Cleveland can win the season series on Sunday against a Pacers lineup that has been without center Myles Turner for the last four games, and guard Tyrese Haliburton for the last three
Despite playing without its two leading scorers -- Haliburton at 20.7 points per game and Turner at 18.0 -- Indiana (34-44) snapped a four-game losing skid on Friday with a 121-117 defeat of Oklahoma City.
T.J. McConnell nearly recorded a triple-double off the bench for the Pacers, recording team highs of 21 points and eight assists, as well as nine rebounds. Andrew Nembhard added 18 points as one of seven Pacers to score in double figures
Nembhard and fellow rookie Bennedict Mathurin have started together in the backcourt for a young Indiana rotation.
"The thing that I've just tried to do is no matter who's out or who's playing, we have to give the same energy every single night. That's kind of how I've played my entire career," McConnell said in his postgame press conference on Friday. "The advice to the young guys is you have to take advantage of every opportunity that you get to step out on the floor. There's young guys in this league (who) don't see the floor until their third or fourth year.
"So, these minutes are very valuable, and they're taking total advantage of it. It's very good to see."
A trying latter-half to the campaign, beginning with Haliburton's 10-game absence due to knee and elbow injuries in January, knocked a Pacers team that looked to be in playoff contention outside the play-in tournament race
Entering play Saturday, Indiana trailed Chicago by 3 1/2 games for the 10th spot in the Eastern Conference.
As for Cleveland, Sunday's contest is the first of four games to close the regular season against teams either eliminated or on the cusp of elimination from postseason contention.
--Field Level Media