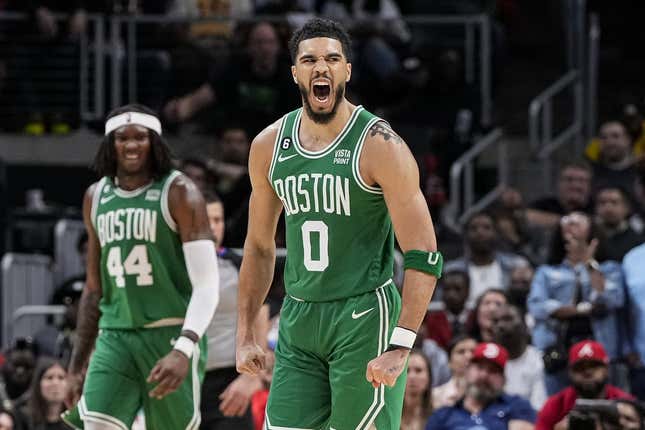 The Celtics look to eliminate the Atlanta Hawks when their Eastern Conference first-round series shifts back to Boston for Game 5 on Tuesday night
Bass' ERA stinks, but not compared to who he is off the mound | Worst of the Week Countdown
Boston took a 2-0 series lead at home before splitting the last two games in Atlanta, with Sunday's 129-121 win putting the No. 2 seed on the verge of advancing. Jaylen Brown and Jayson Tatum each scored 31 points, leading six Celtics who scored in double figures
After having the middle two of their four 2022 postseason series -- against Milwaukee and Miami -- extended to the maximum seven games en route to last year's NBA Finals, the Celtics do not want to leave anything to chance this time around
"This could possibly be our last chance of having this opportunity," guard Marcus Smart said. "Last year taught us that you don't get blessed and lucky too many times, and you've got to grab it."
Atlanta could face an even steeper climb if it has to play without guard Dejounte Murray, whose contact with referee Gediminas Petraitis in the final seconds of Game 4 is being investigated by the NBA. Intentional contact with an official is grounds for an automatic suspension.
Murray has averaged 25.3 points, 7.3 rebounds, 5.8 assists and 2.3 steals through the first four games of the series.
During Sunday's game, Smart played through a lower back contusion while Brown went without the mask he had been using to protect his cheekbone that he fractured earlier in the season.
"When I took it off, it gave me the edge that I needed," Brown said.
Smart had been listed as questionable on Saturday's pregame injury report.
But Brown's best performance of the playoffs to date, and the team's overall effort, showed a sense of urgency that it will look to use to finish off the series.
"I thought (Brown) did a great job making plays at the rim, operating in space, playing off two feet, and making the right play," Celtics coach Joe Mazzulla said. "To me, he showed just tremendous poise on the offensive end when he had the ball in his hands, making plays for himself and others.
If the Celtics eliminate Atlanta on Tuesday, their second-round series against the Philadelphia 76ers will begin Saturday at Boston. The 76ers could be without star Joel Embiid (knee sprain) for the start of that series
Whether or not Murray is in the lineup, the Hawks face an uphill climb against a team they had not beaten in five consecutive meetings this season before Friday. Atlanta earned a 130-122 victory at home in Game 3
After watching the Hawks shoot 56.0 percent in Game 3, the Celtics returned to their defensive principles Sunday and never looked back after leading a 33-19 with just under two minutes remaining in the first quarter
"We got to play well for 48 minutes against this team," Hawks coach Quin Snyder said. "That's harder on the road, but that's a challenge and it's one we have to embrace because that's what it's gonna take.
Trae Young scored a team-high 35 points in the Game 4 defeat and dished out 15 assists.
The Hawks have won back-to-back Game 5s in their playoff history against Boston (2012 and 2016), but this one is do-or-die
"If we can't come to play now, I don't think we ever will," forward De'Andre Hunter said.
--Field Level Media