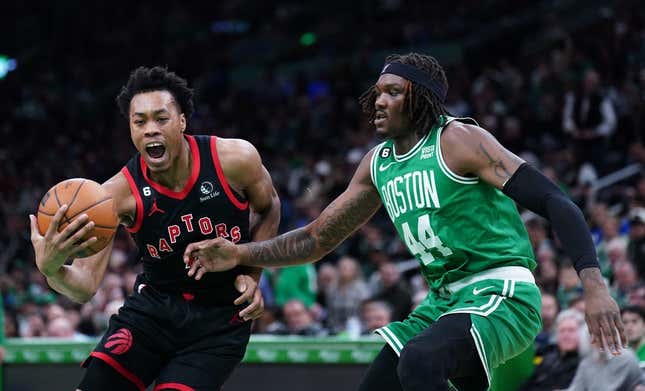 The Boston Celtics secured the No. 2 seed for the Eastern Conference playoffs by beating the Toronto Raptors 97-93 at home Wednesday night
The victory gave Boston a 2 1/2-game lead over Philadelphia. The 76ers have three games remaining in the regular season - one more than Boston - but the Celtics (55-25) hold the tiebreaker. Philadelphia will be the No. 3 seed
Boston trailed Milwaukee by three games entering Wednesday's contest, but the Bucks clinched the No. 1 seed with Wednesday's 105-92 home victory against Chicago.
Malcolm Brogdon came off the bench to score a game-high 29 points for the Celtics, who received 25 points and 11 rebounds and five assists from Jaylen Brown. Derrick White (17) and Mike Muscala (12) also scored in double figures for Boston
Pascal Siakam had 28 points and 11 rebounds for Toronto (40-40), which is battling Atlanta for the No. 8 spot in the Eastern Conference standings. The Raptors were just 6-for-33 from 3-point range (18.2 percent)
Scottie Barnes had 18 points, eight rebounds and five assists for Toronto. Precious Achiuwa added 16 points and nine rebounds.
Toronto was within two points following a Barnes 3-pointer with 2:00 remaining in the third quarter but trailed 79-72 entering the fourth. The Raptors trailed 95-93 after an Achiuwa free throw with 12.1 seconds left, but Brogdon sealed the win by sinking two free throws
Boston played without starters Jayson Tatum and Marcus Smart. Tatum was out with a left hip contusion, and Smart said he played through a pinched nerve Tuesday against Philadelphia and felt discomfort during the game.
Al Horford also didn't play Wednesday. The Celtics have not played Horford in back-to-back games this season
The Celtics led 31-28 after one quarter and 56-44 at halftime
The teams will meet again Friday in Boston.
--Field Level Media