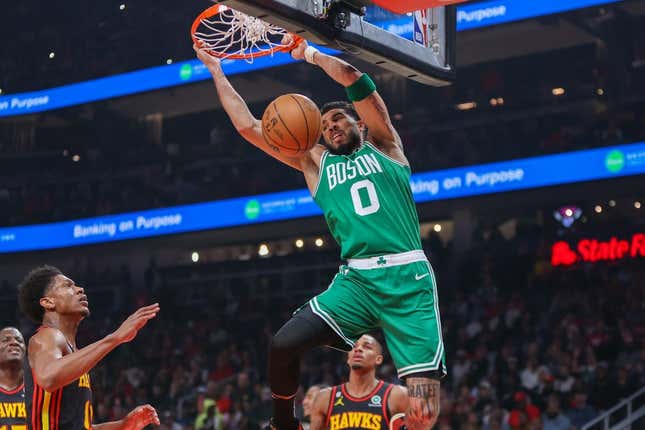 Jaylen Brown scored 32 points and Jayson Tatum added 30 to give the visiting Boston Celtics a 128-120 win over the Atlanta Hawks on Thursday, ending their Eastern Conference first-round playoff series in Game 6
Bass' ERA stinks, but not compared to who he is off the mound | Worst of the Week Countdown
The second-seeded Celtics will play the third-seeded Philadelphia 76ers in the second round of the playoffs, with Game 1 on Monday in Boston
Boston trailed 113-110 with 6:24 remaining after a Clint Capela dunk. However, the Celtics reeled off 11 straight points to go up 121-113 on consecutive 3-pointers from Brown, Al Horford and Tatum and then a dunk from Tatum with 2:07 to go
Brown shot 13-for-25 from the field, hitting 6 of 8 3-point attempts and grabbing five rebounds. Tatum went 11-for-20 with four 3-pointers, 14 rebounds and seven assists. Marcus Smart added 22 points, and Horford, a former Hawk, finished with 10 points and 12 rebounds.
The Celtics made 18 3-pointers and went 16-for-17 from the line
Atlanta was led by Trae Young with 30 points, his fourth straight game with 30-plus points. Young finished only 9-for-28 from the floor and 4-for-12 on 3-point tries. He added 10 assists.
De'Andre Hunter scored 20 points and Dejounte Murray, who was suspended for Game 5 for bumping a referee, returned to score 14 -- all in the second half -- and hand out 10 assists.
The Celtics grabbed an early 10-point lead but led only 35-34 after one quarter. Young kept the Hawks afloat with 18 points in the opening period
The Hawk led by as many as seven in the second quarter, only to have Boston go on a 15-7 run and lead 68-67 at the half. Young had 25 before the break while Brown scored 19.
The third quarter featured nine lead changes and six ties, with the Hawks using a late basket by Onyeka Okongwu to take a 100-98 edge into the fourth quarter
The Celtics, who won both regular-season games in Atlanta, won two of the three playoff games in Atlanta
--Field Level Media